STOP struggling to stand out in a crowded Instagram feed.

START attracting all the loyal, engaged followers you could possibly want, instead.
Access my formula that rising influencers are using to finally start getting the growth, engagement, and clients they really want!
Are you tired of . . .
Posting on Instagram multiple times per day but only getting likes from your friends


Wasting hours to create the "perfect" photo that doesn't increase your follower count at all

Wondering if Instagram is just too crowded for anyone new to build an engaged following

Growing your list slowly over months and months without seeing a single new client or sale from it

Feeling like you have to be a fulltime

social media manager just to get a few new leads


Imagine if you could abandon the old, ineffective ways to grow an Instagram following . . .
And see new engagement and followers with every post.
Instead of throwing out hit-or-miss posts whenever "inspiration" strikes, you could follow a purposeful Instagram strategy.
One that takes only a few hours per week but still produces consistent, organic growth.
And not just growth in your followers or other vanity metrics.
I'm talking about more prospects and increased sales. Without needing to invest a single penny in ads.
That's right, daily, you could see new leads and sales come from your Instagram funnel.
Instead of stressing out about where to find clients, you have new leads every day that come straight from Instagram.
And you don't have to spend hours planning and promoting.
Sound too good to be true?
I thought so too when I first discovered this system. But then I saw student after student repeat (and go beyond) my success.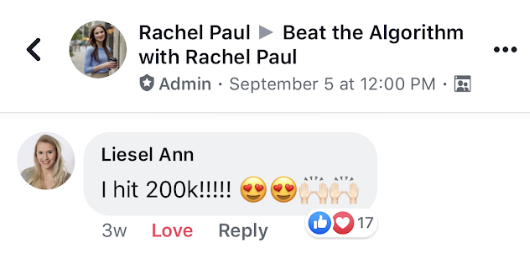 In case we haven't met . . . I'm Rachel Paul!
And I started out in a spot that's probably very close to where you are right now: trying to gain traction in a crowded market.
Just a few years ago, I was a regular girl with a regular nutrition account. I was just following the advice everyone else was giving.
And it worked . . . sort of.
I managed to claw my way up to 17k Instagram followers, and I felt like things were going fine.
Until they weren't.
After a major algorithm update, my engagement tanked. My growth screeched to a halt.
I was stunned . . . and embarrassed.
Because I was helplessly failing, trying everything I could to hold on to my early success.
But none of the old advice worked anymore.
So I had to find a new way. I had to figure out how other successful people were continuing to grow.
And in the process, I developed a reliable framework to help me reignite my engagement and get back on the growth train.
Once I saw that the formula worked for me, I started helping other up-and-coming health and fitness experts use the same method.
And they started doing even better than I expected.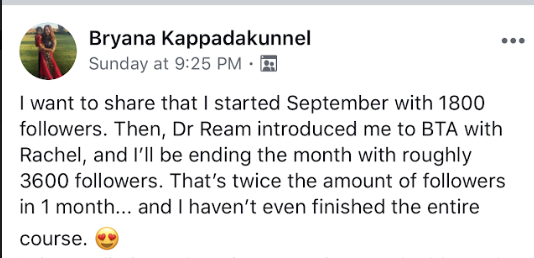 That's when I knew I was onto something big. And I needed to systematize this formula so others could repeat that success.
After months of testing and developing, I put together a step-by-step formula. And it's proven, polished, and ready to implement in your business.
Introducing...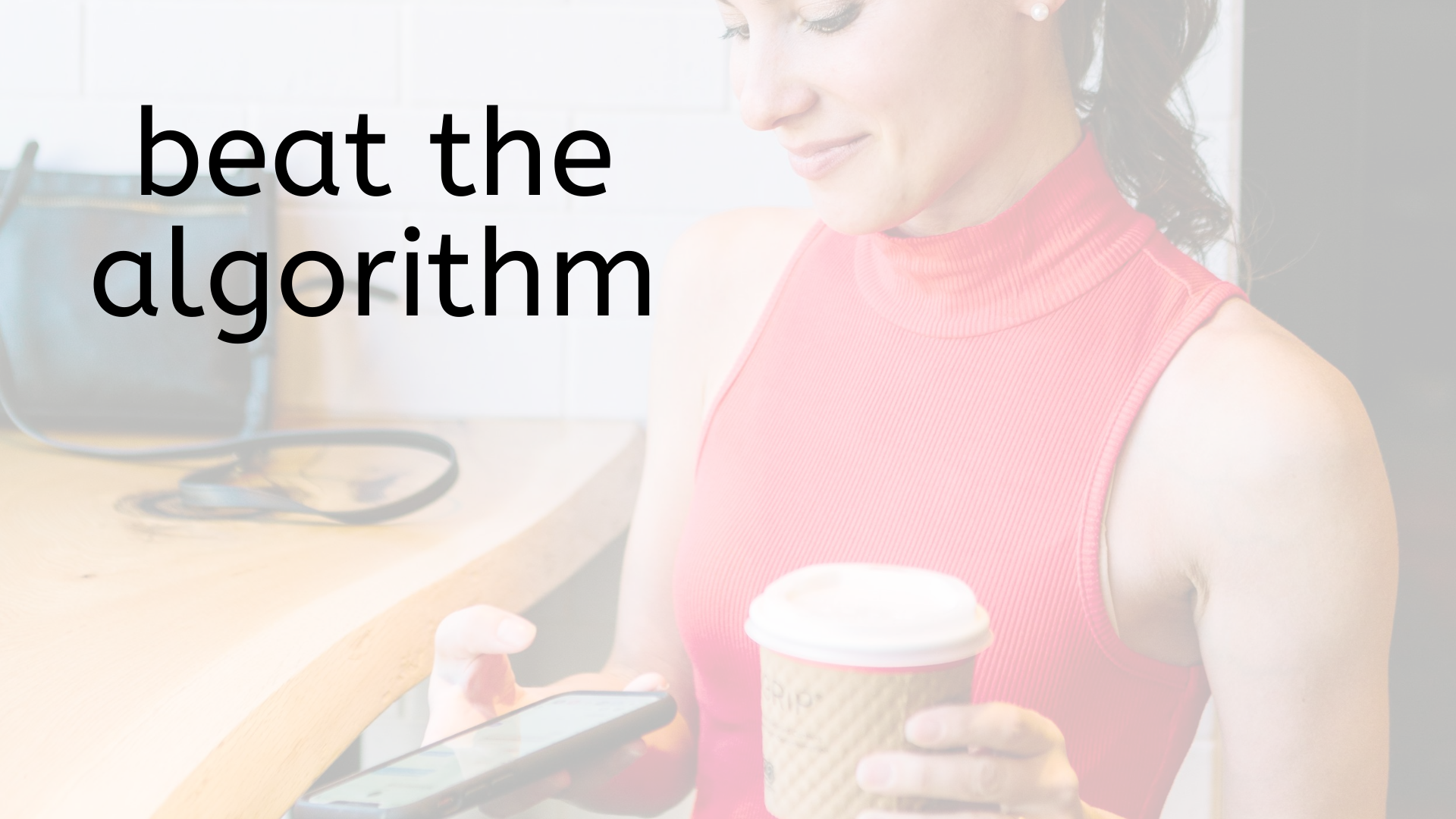 Beat the Algorithm
The most effective system for generating engaged followers on Instagram, so you can bring in more qualified leads . . . by spending just a few hours a week creating and posting new content.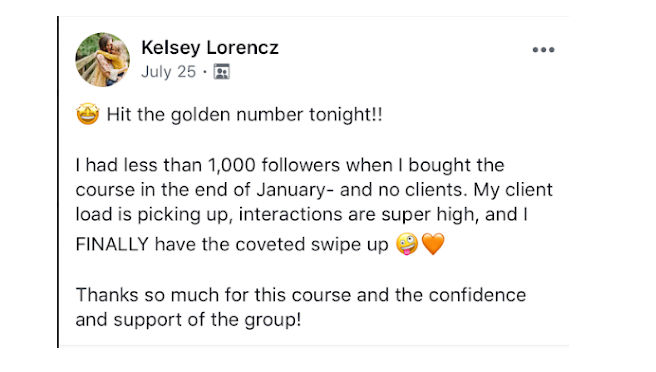 Here's What Makes Beat the Algorithm Different
I'm not gonna lie to you . . . there are A LOT of courses out there on how to master Instagram. A few give decent advice, but most tell you the exact opposite of what you should do.
But here's what almost everyone else has in common . . .
They want you to become a fulltime social media manager!
As if you want to live your entire life on Stories, spending hours:
Trying to create the perfect picture
Responding to DMs from people who will never buy from you
Liking and commenting on other people's posts, desperately trying to get them to pay attention to your posts so you can get some mythical engagement boost
But that IS NOT what Beat the Algorithm is all about.
Instead, I'll show you how to quickly create content that makes it to the explore page, gets high engagement, and adds new followers daily. So you can increase leads and sales for your business.
And I'm not going to waste your time with a bunch of rambling about my life and my business.
When you start this course, we get to work right away. No fluff, no filler.
I keep this content brief but powerful. It takes just 2 ½ hours to watch the content. And after you've completed the program (feel free to binge), right away you'll be able to . . .
Get new followers and great engagement with every post

Have new leads and sales flowing to you each and every day (without having to hound them or try to track them down)

Create a purposeful Instagram strategy that you can execute in just a few hours a week

Promote amazing organic growth and sales without relying on paid ads

Use Instagram the way you want instead of feeling tied to the platform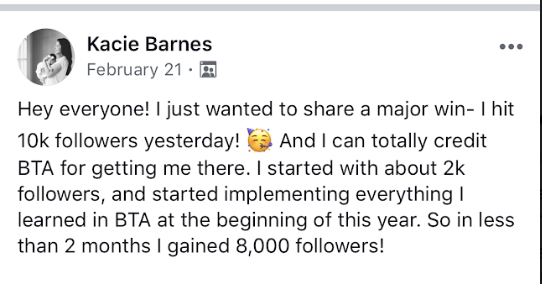 Here's what's included...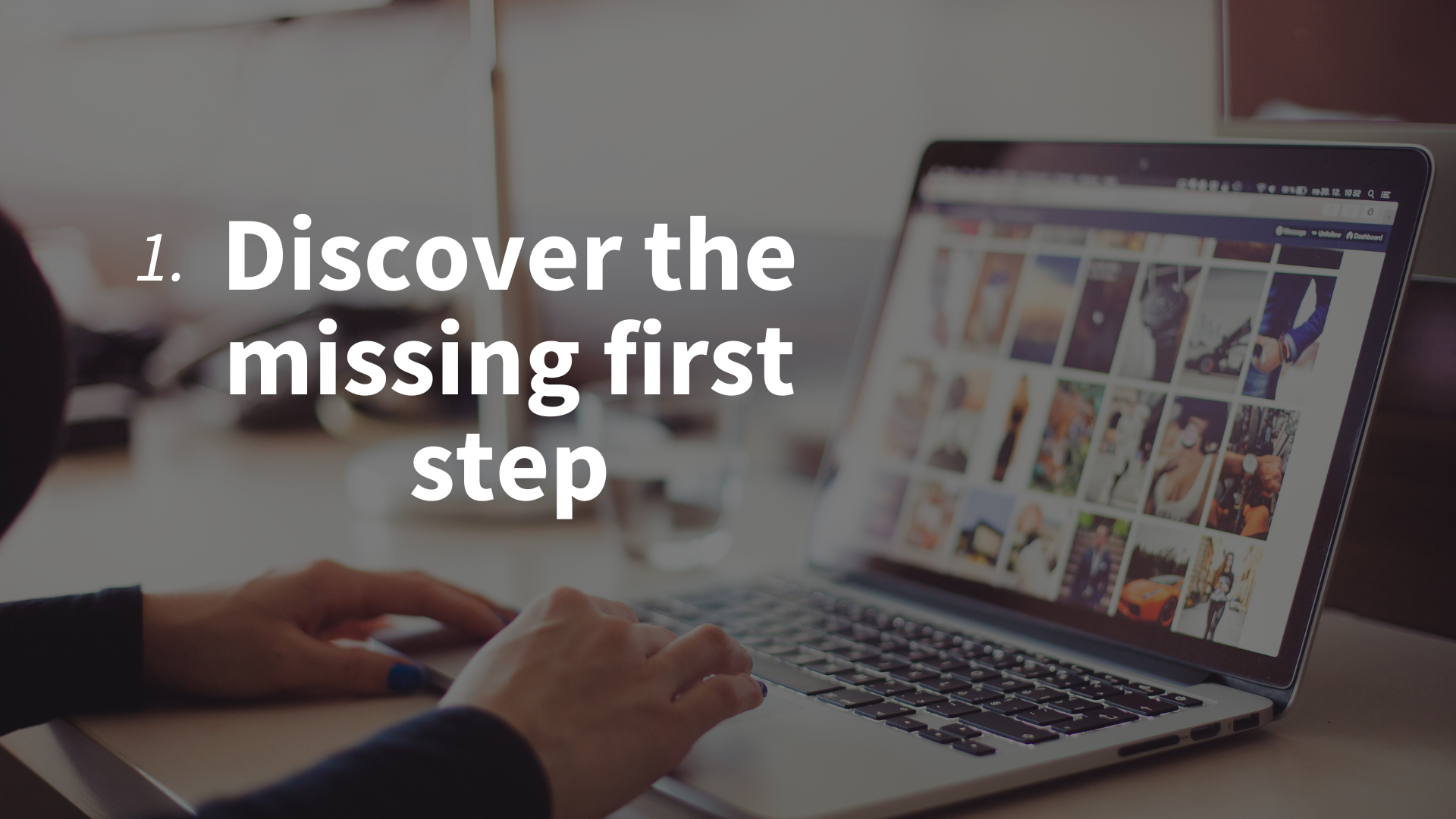 1. Discover the Missing First Step

There's a first step most people are missing, but it's the most crucial thing you can do to gain visibility on Instagram. And it's required to attract people who will actually engage and like your content.
Without it, you'll confuse and repel the people in your target audience. With it, everything changes. Your followers suddenly start realizing you're someone to pay attention to.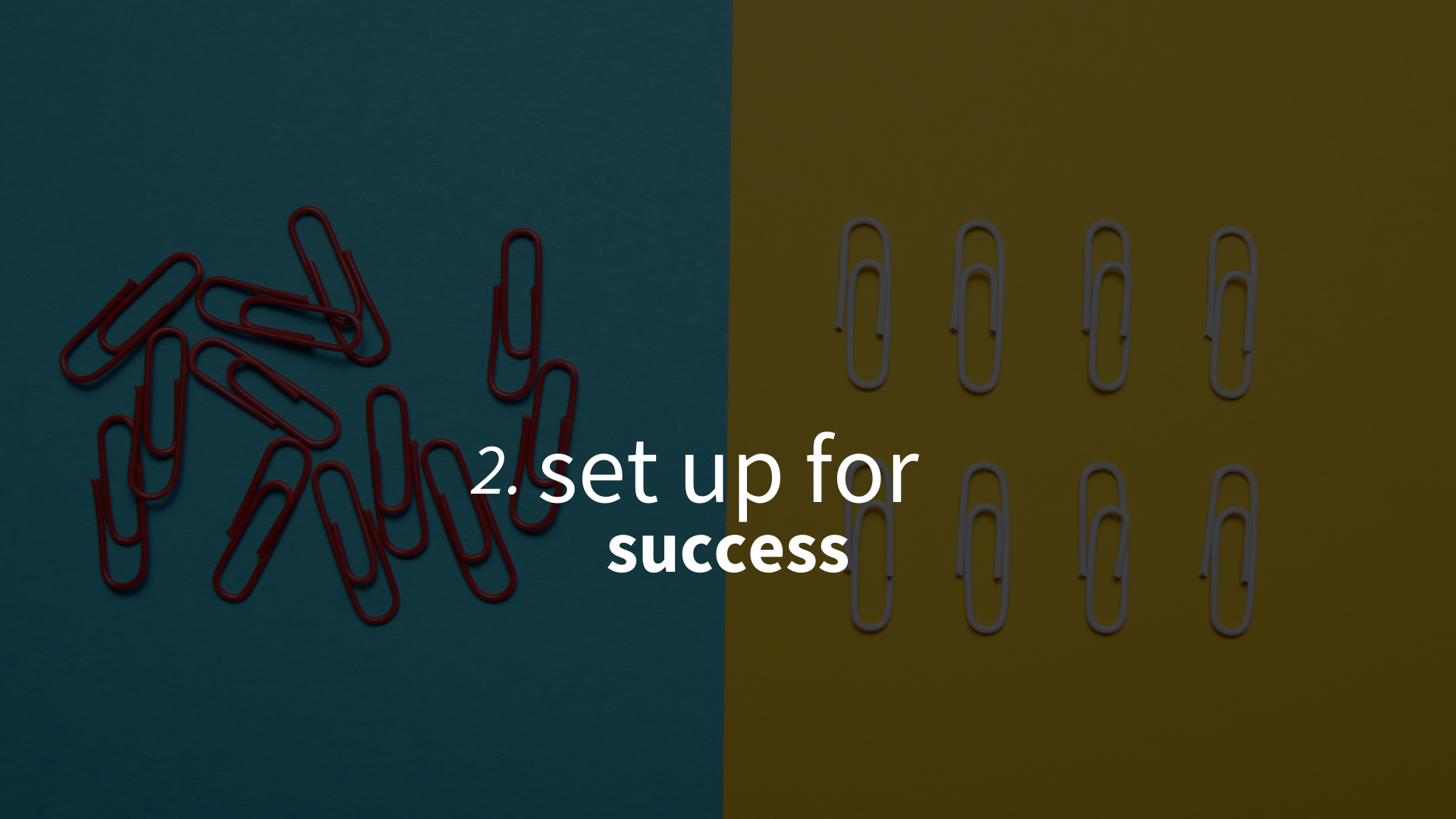 2. Set Up for Success
If you're feeling overwhelmed with Instagram, TikTok, Clubhouse... and today's newest platform, my Set Up for Success method will solve your problems.
I'm seriously so excited for you to start using my organizational practice that I'll have you set up once, and then refer back to for ALL of your future content. This practice alone is worth the price of this course!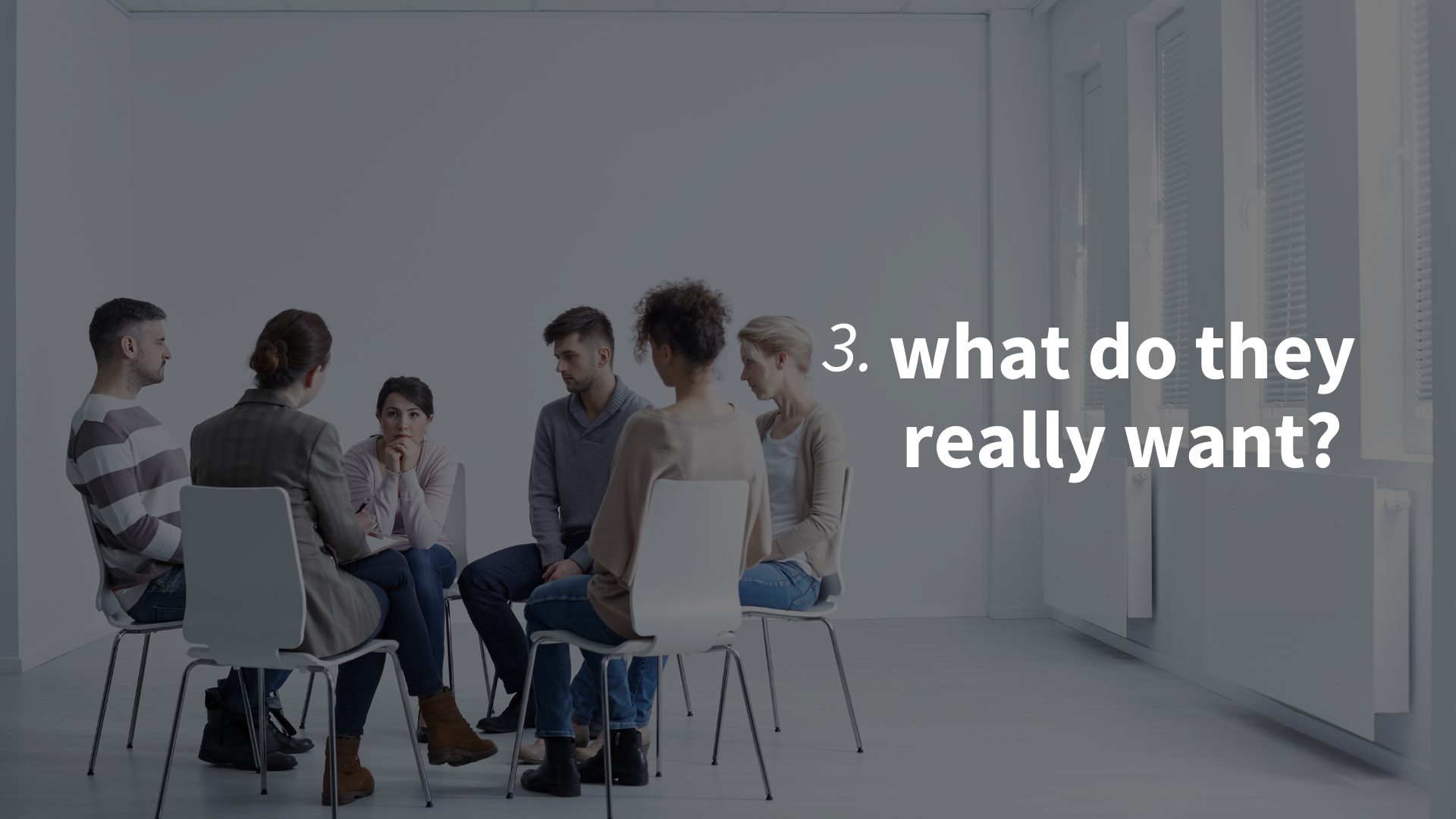 3. What Do They Really Want?

First impressions are lasting, aren't they? And they're extra important on Instagram. People are deciding within seconds of reaching your profile if they're going to follow you or not.
So, what can you do to make sure everyone in your target audience gets the right first impression? They should see your profile and think following you is a must. I give you the keys to make that impression on your ideal clients!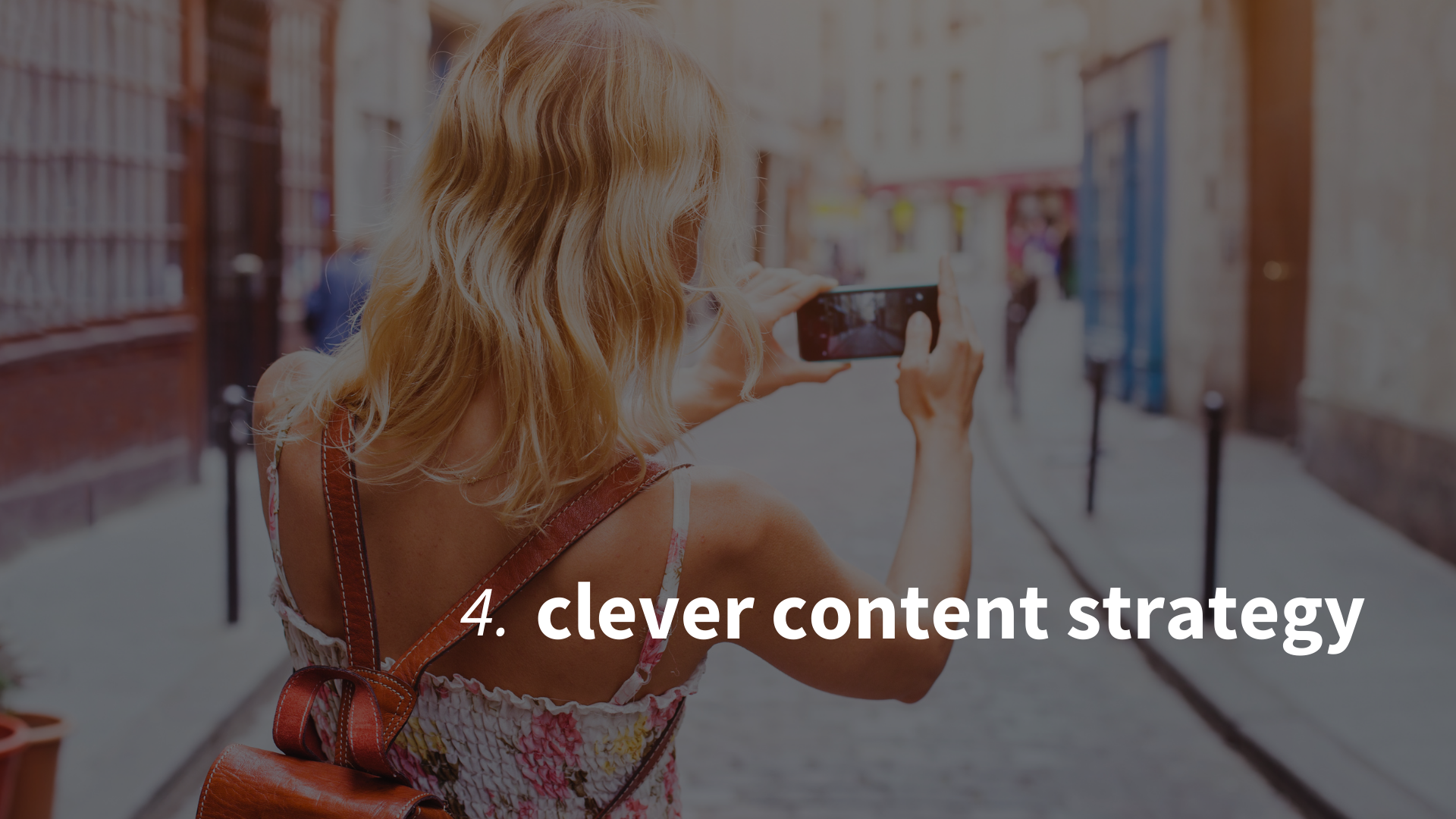 4. Clever Content Strategy (even if you're not a pro photographer)!

Now, let's talk about how saturated Instagram is. It seems like there's already an overwhelming number of influencers on the platform. (Because there are!) So, is there even space for you to shine? YES!
There is plenty of engagement, followers, and customers to go around. But, you have to know how to create content that stands out to attract them.
So we cover ways to get your content to pop off the page and get noticed. And I show you how to capture and hold the attention of your target followers.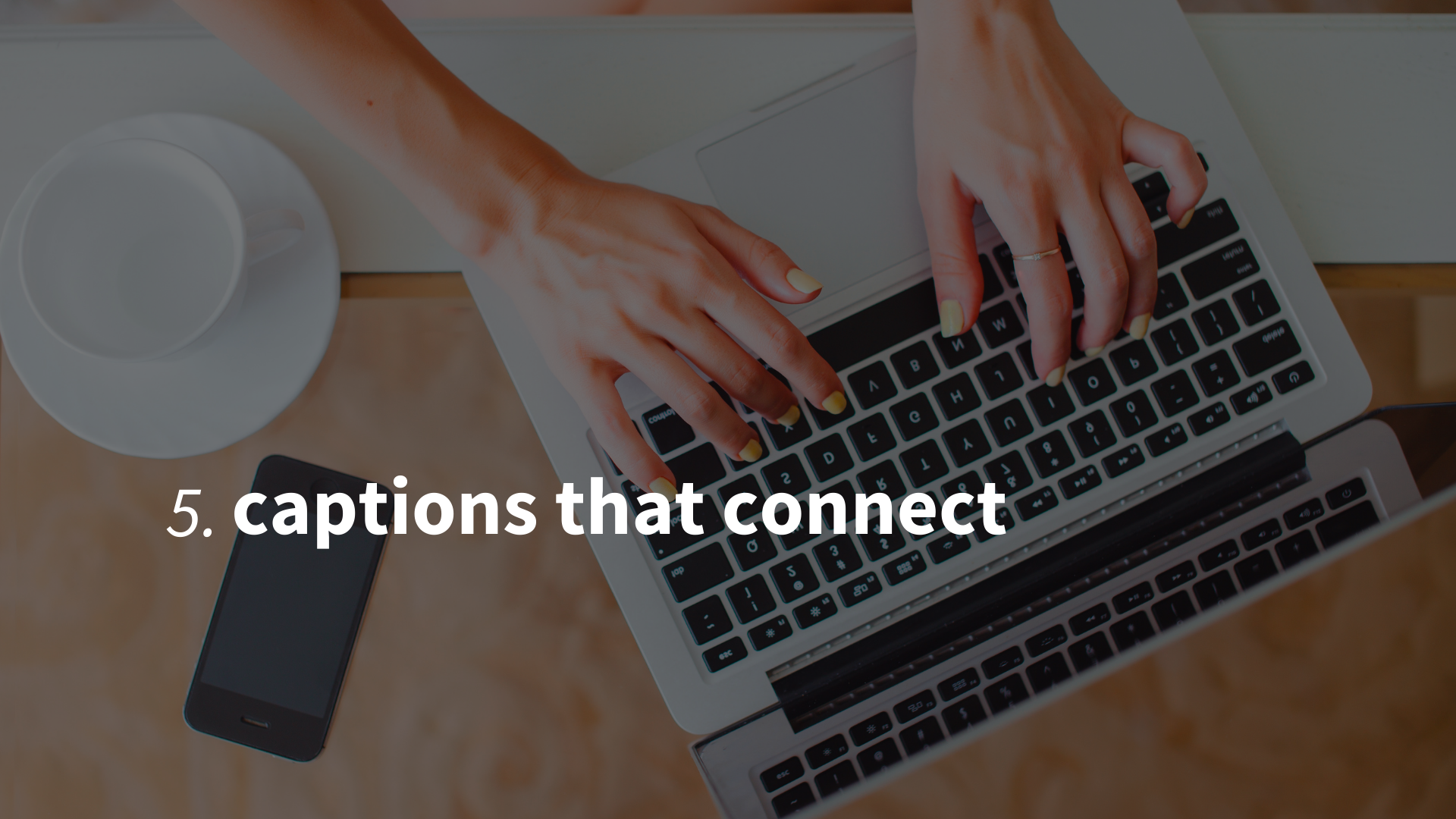 5. Captions That Connect

How many times have you scrolled through Instagram without reading a single caption? Well, that is, unless your favorite influencer pops up.
You know . . . the one who always says just the right thing to make you laugh or give you the insight you need at that moment. If you want your followers to love you (the person) you have to discover how to write captions that connect with them.
There's a certain structure and a formula for writing captions that build rapport. And I give it to you in this module.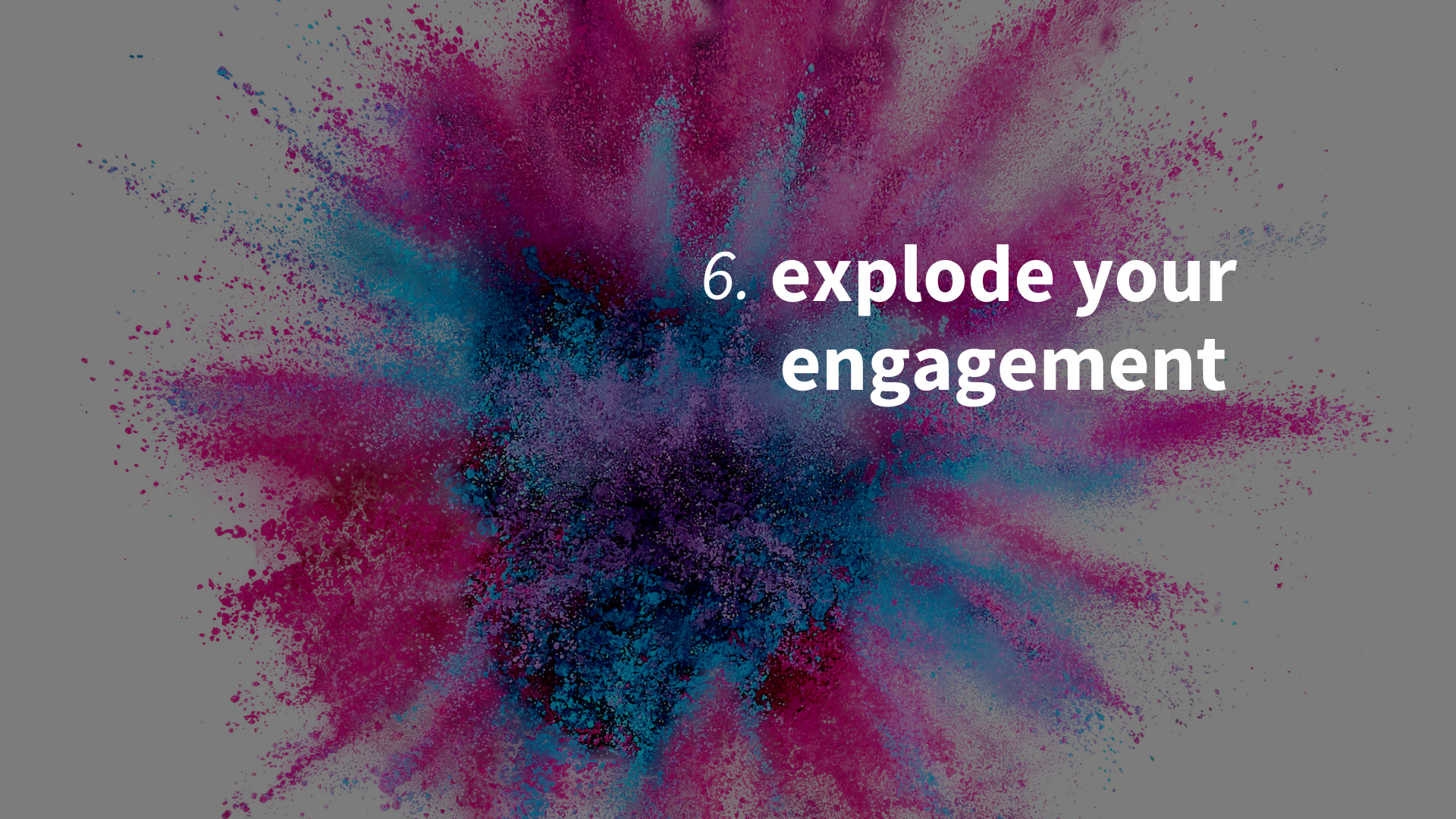 6. Explode Your Engagement

Your growth is only as good as your engagement. What's the point of having thousands of followers if they're not interacting with your posts?
There isn't one! (Unless you're just looking for an ego boost.) So I show you how to do more than get followers. You'll discover how to keep them engaged for the long haul.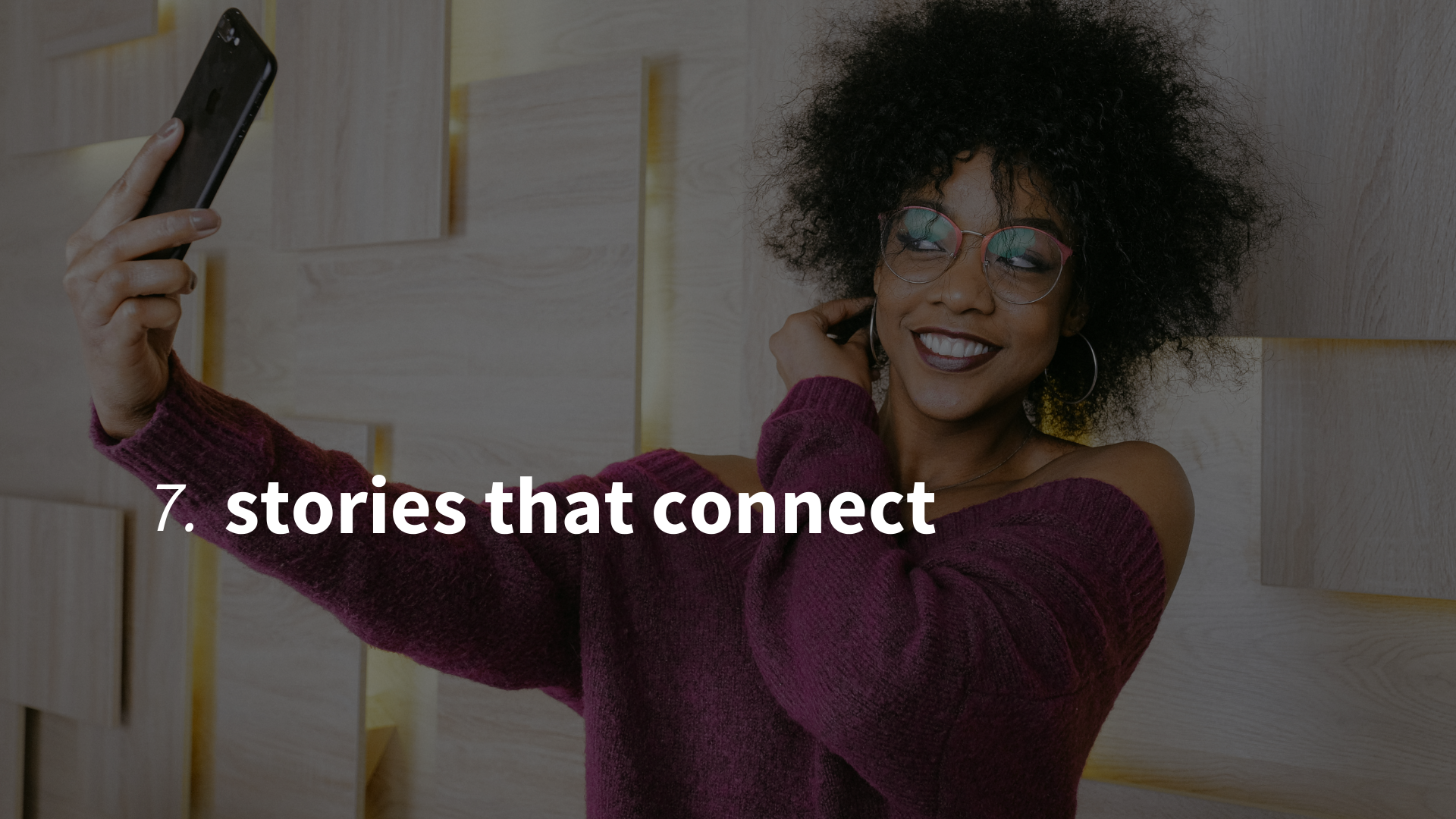 7. Stories That Sell & Connect

When Instagram released the Stories feature in 2016, it was as if a set of flood gates opened. People love being able to quickly swipe through stories from their favorite influencers.
So much so that a lot of people actually spend more time viewing stories than scrolling down their feed. That means it's essential that you're not just posting to your feed. You should also be discovering how to use stories in a way that grabs your audience.
If you do it correctly, it makes it way easier for you to sell to them too! And I'll show you how to do it right.
Plus, for a limited time, I'm also including this amazing bonus:
Bonus: Private Facebook Mastermind Group ($350 Value)
Brainstorm with other like-minded boss babes about your content and support each others' huge successes!
You also get access to our huge network of professionals to collaborate with... in all areas of practice, from health and wellness, motherhood and parenting, to lifestyle, fashion, pets (and more.)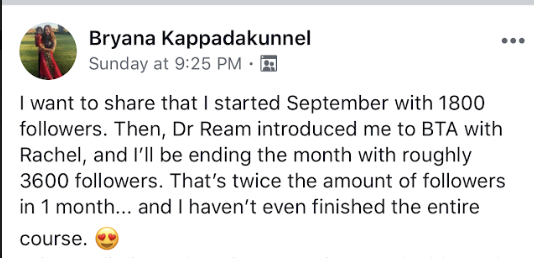 How much is it worth to finally grow (and monetize) your following?
You'll find similar IG courses out there for $997+ because attracting an engaged following is a powerful way to grow your business. And most of these courses just recycle old ideas about audience expansion.
Throw in the amazing bonuses above, and you could expect to pay $2,000 or more for similar content (without seeing the results some of my students have had.)
But I'm not charging $1,997 for Beat the Algorithm (even though it's worth it.) I'm not even charging $997.
Because I want to enable more female entrepreneurs like you who have exciting content to share with the world.
So I want to get these materials into as many hands as possible.
That's why I'm essentially giving the course away right now for $160
So you get the entire Beat the Algorithm system . . .
AND the amazing bonuses to help you leverage this content . . .
INCLUDING membership in an engaged private mastermind . . .
For only $160 when you join today.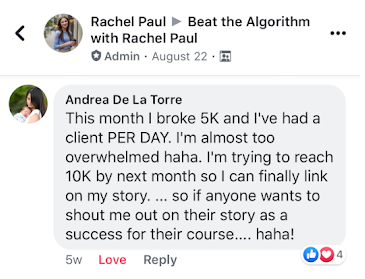 And You're Protected By Our 30-day Guarantee
Since our courses are information products, they can't be "returned" in the traditional sense. But we do have a thorough policy in place to help determine the eligibility of refunds. (Although we're confident these strategies will have you doing cartwheels and pulling in the cash, so a refund request is highly unlikely.)
If you go through the course, implement the strategies, and don't see any results, then you can email us within 30 days for a full refund.
Are you ready to STOP wasting time on Instagram?
If you're an online business selling information products or coaching, you know Instagram can help you bring in more leads.
And it can even work for brick & mortar businesses or affiliate marketers.
But only if you do it the right way.
No more . . .
Random posts that sometimes work and sometimes don't

Hours wasted liking other people's posts

Confusion about what and when to post

Worrying about standing out in a sea of influencers
It isn't too late. You haven't missed the Instagram wave.
It's still possible to increase your impact and grow your following to 10k, 50k, 100k followers, or more.
So you can boost sales from a steady flow of leads... without devoting all your time to Instagram.
And you can get started today.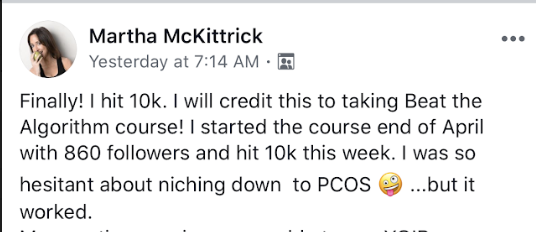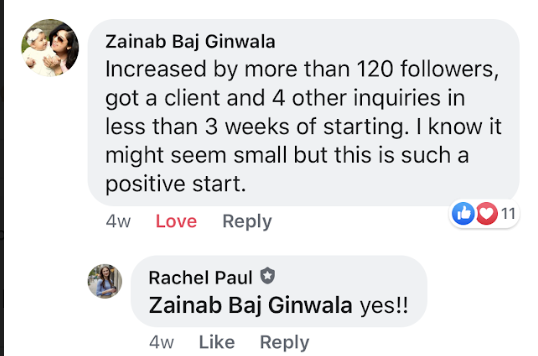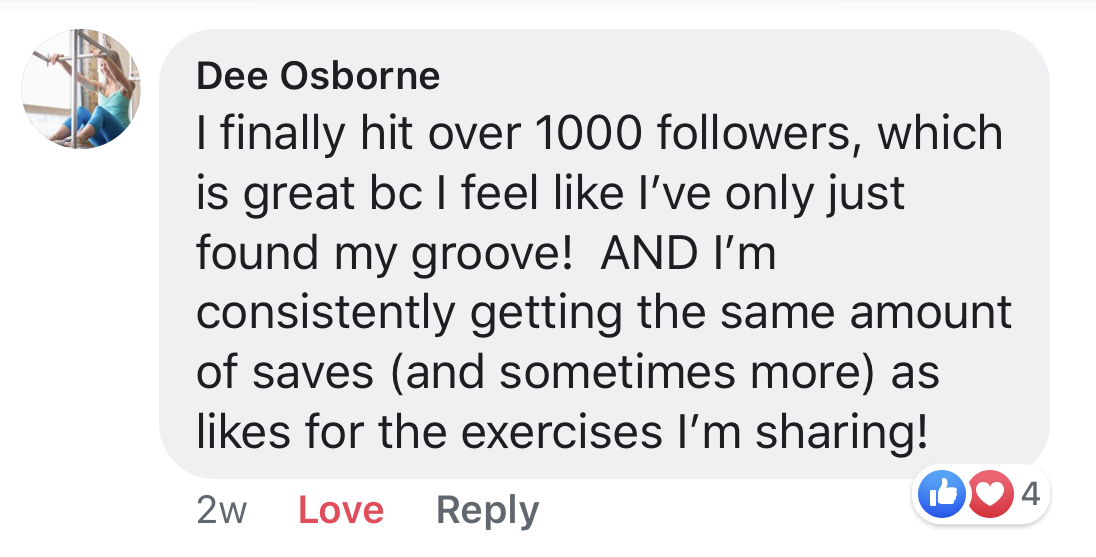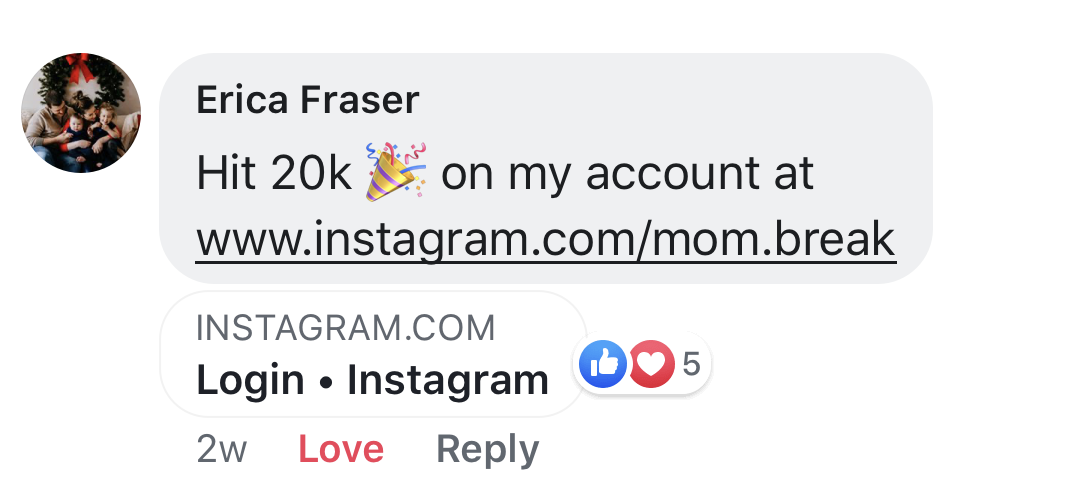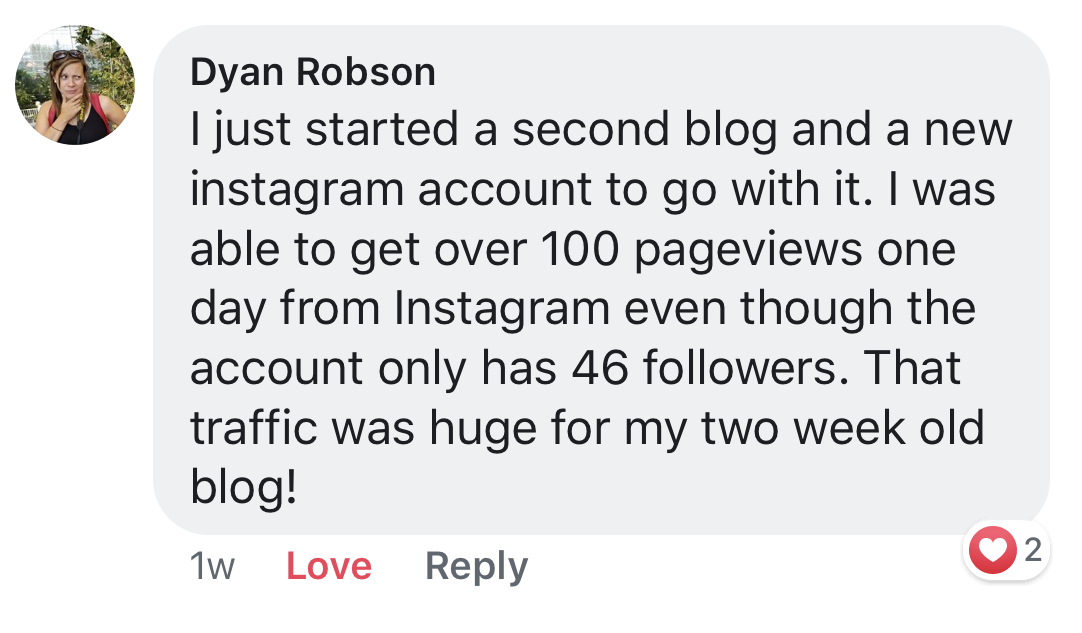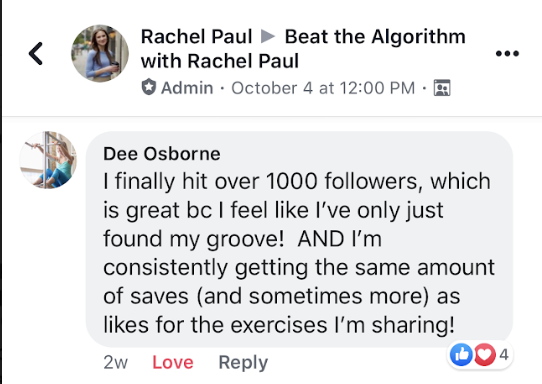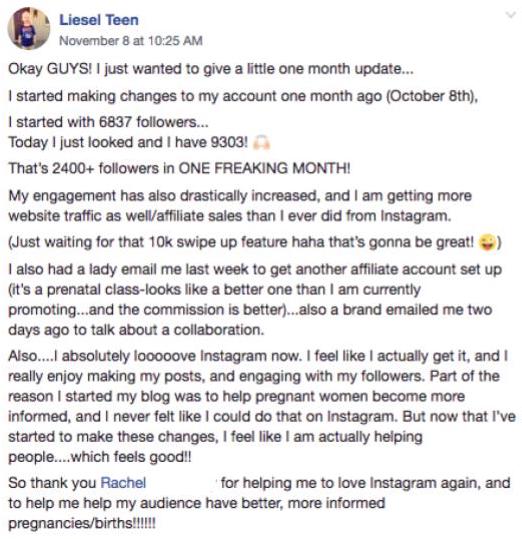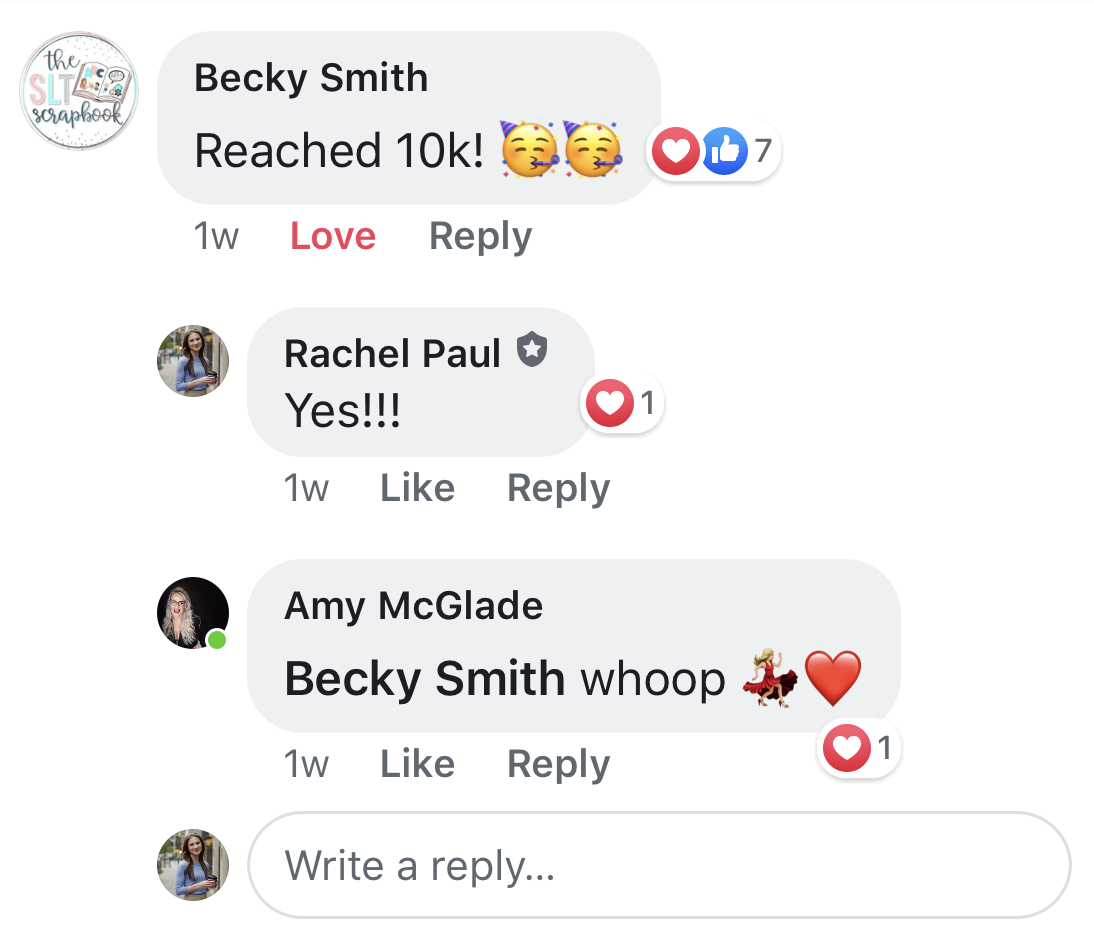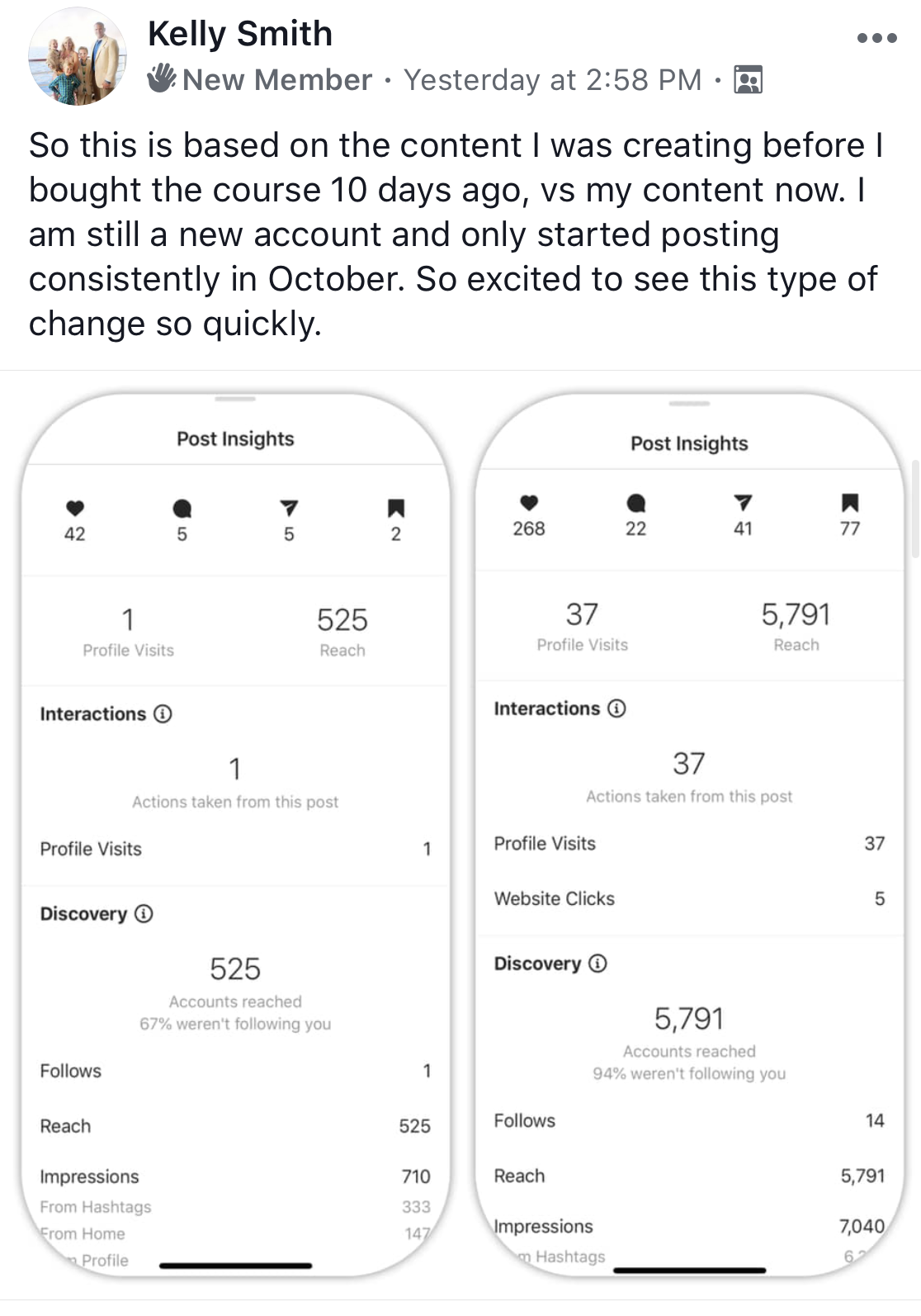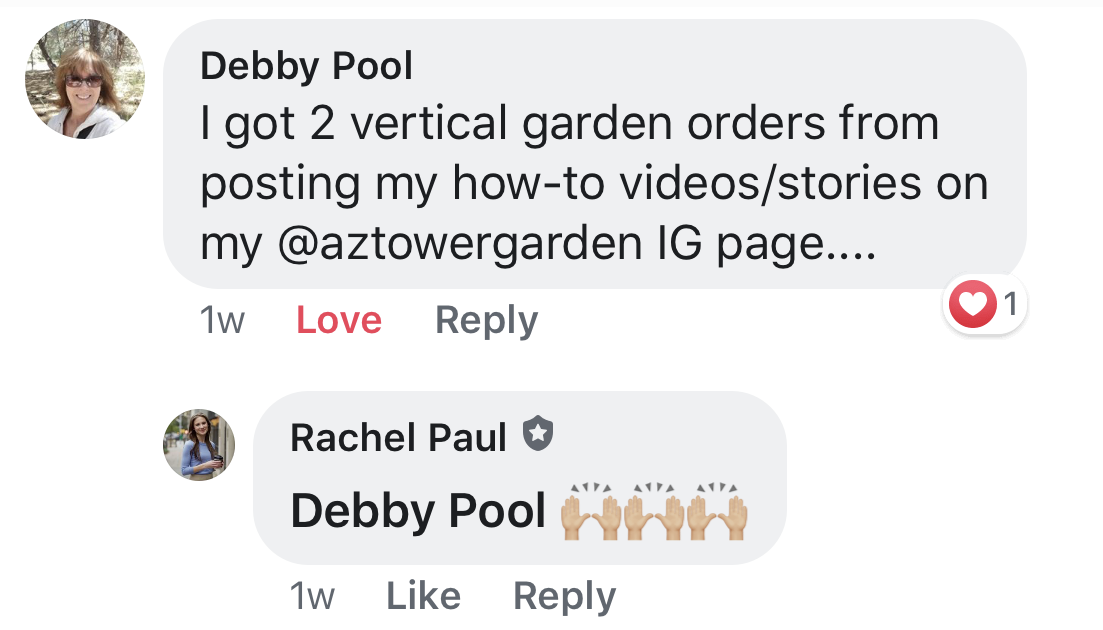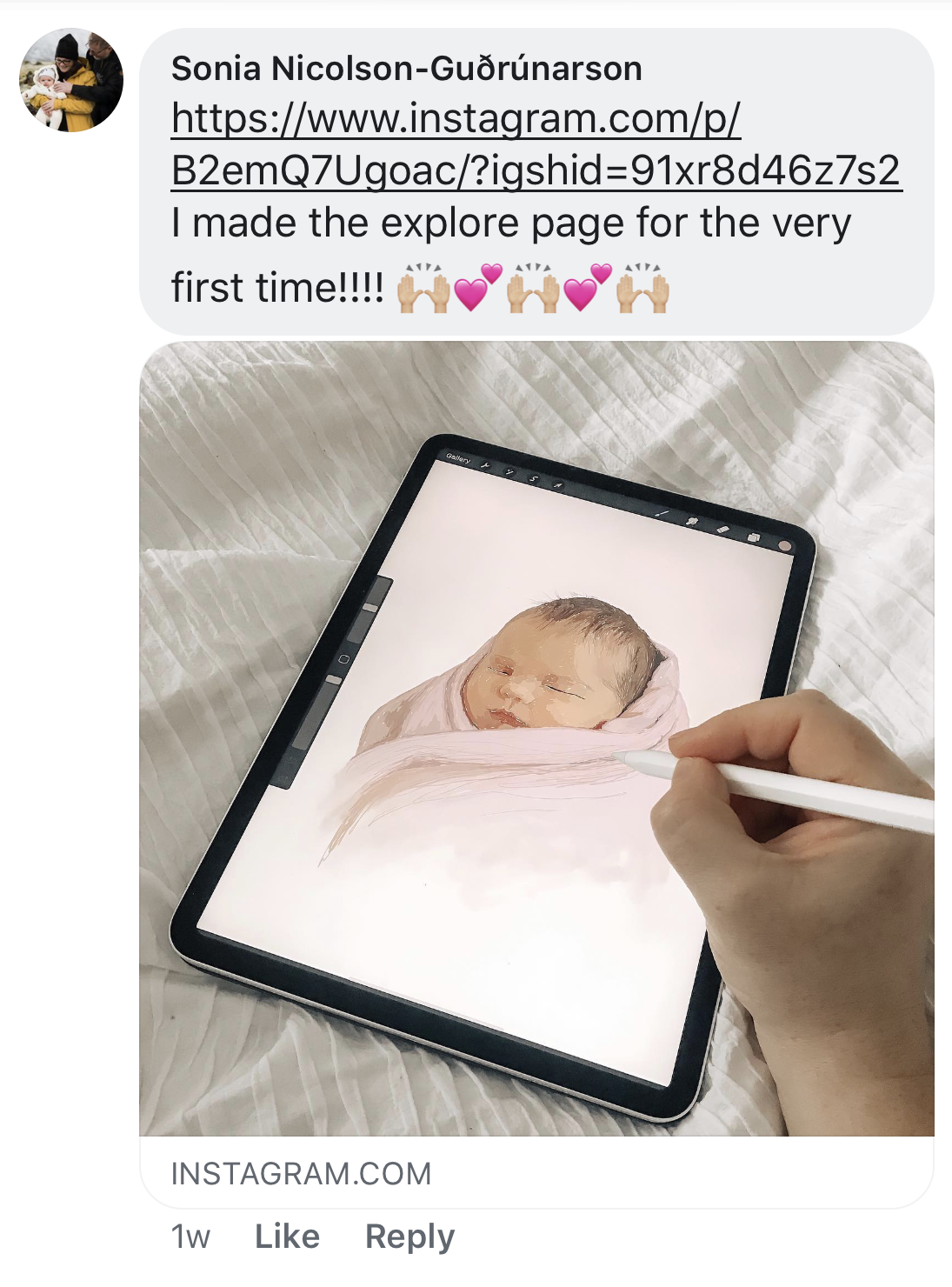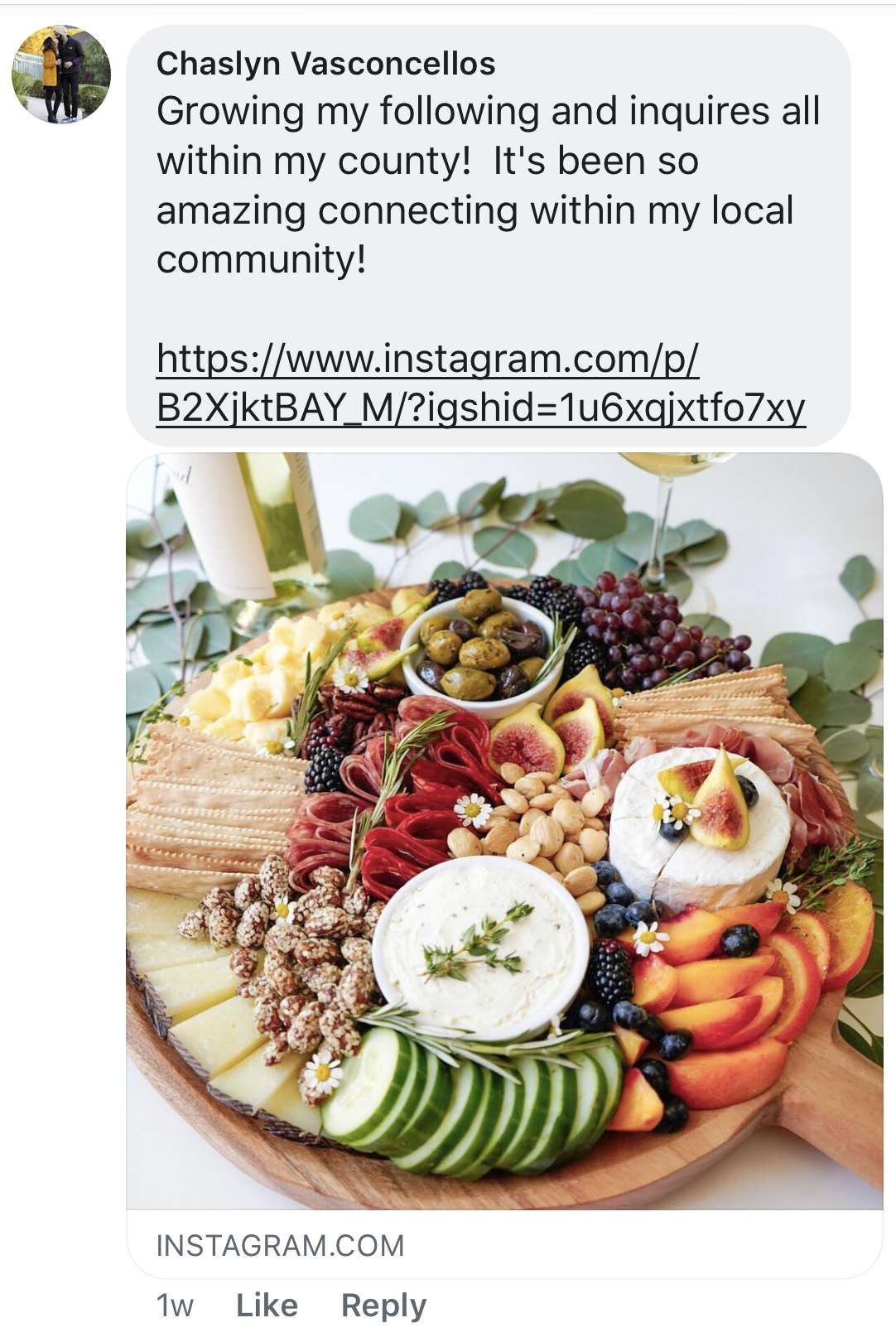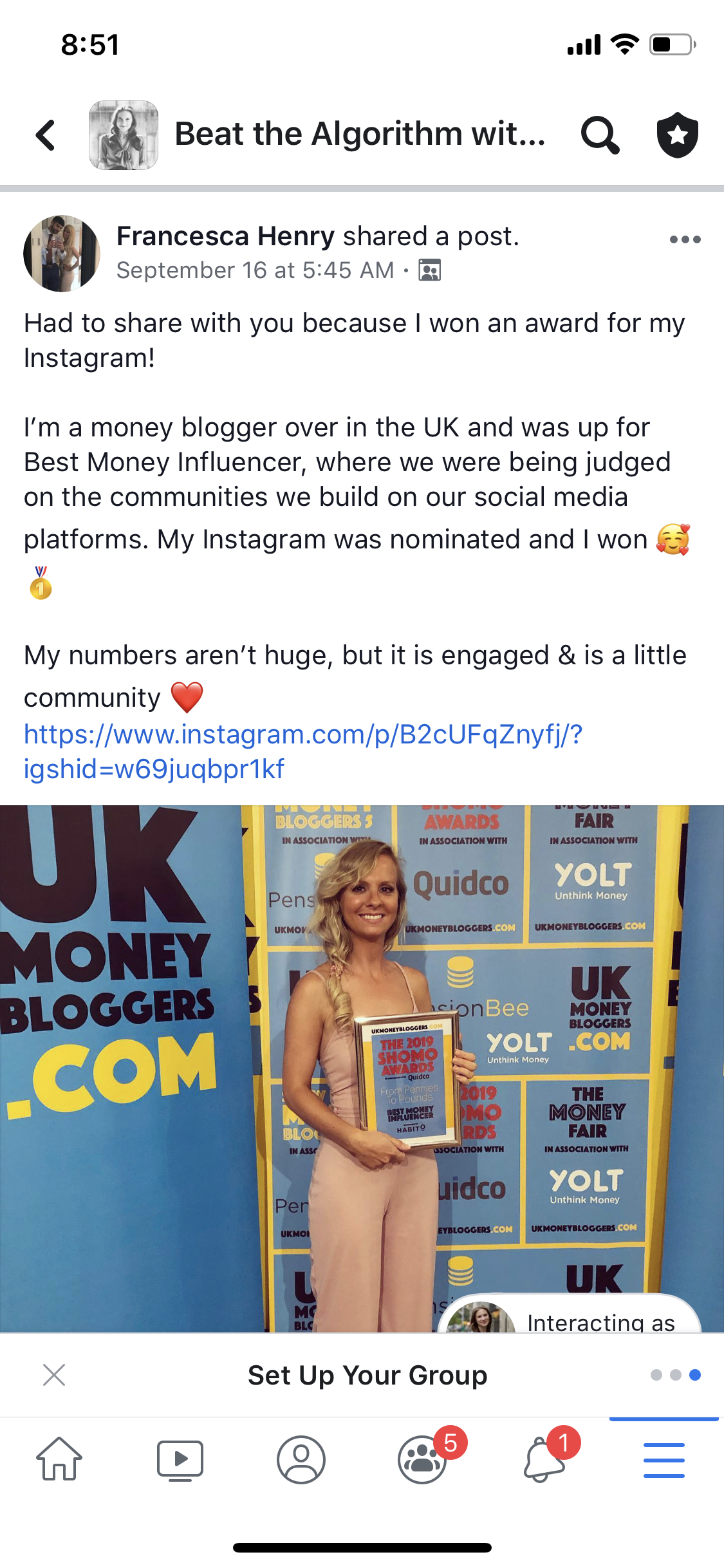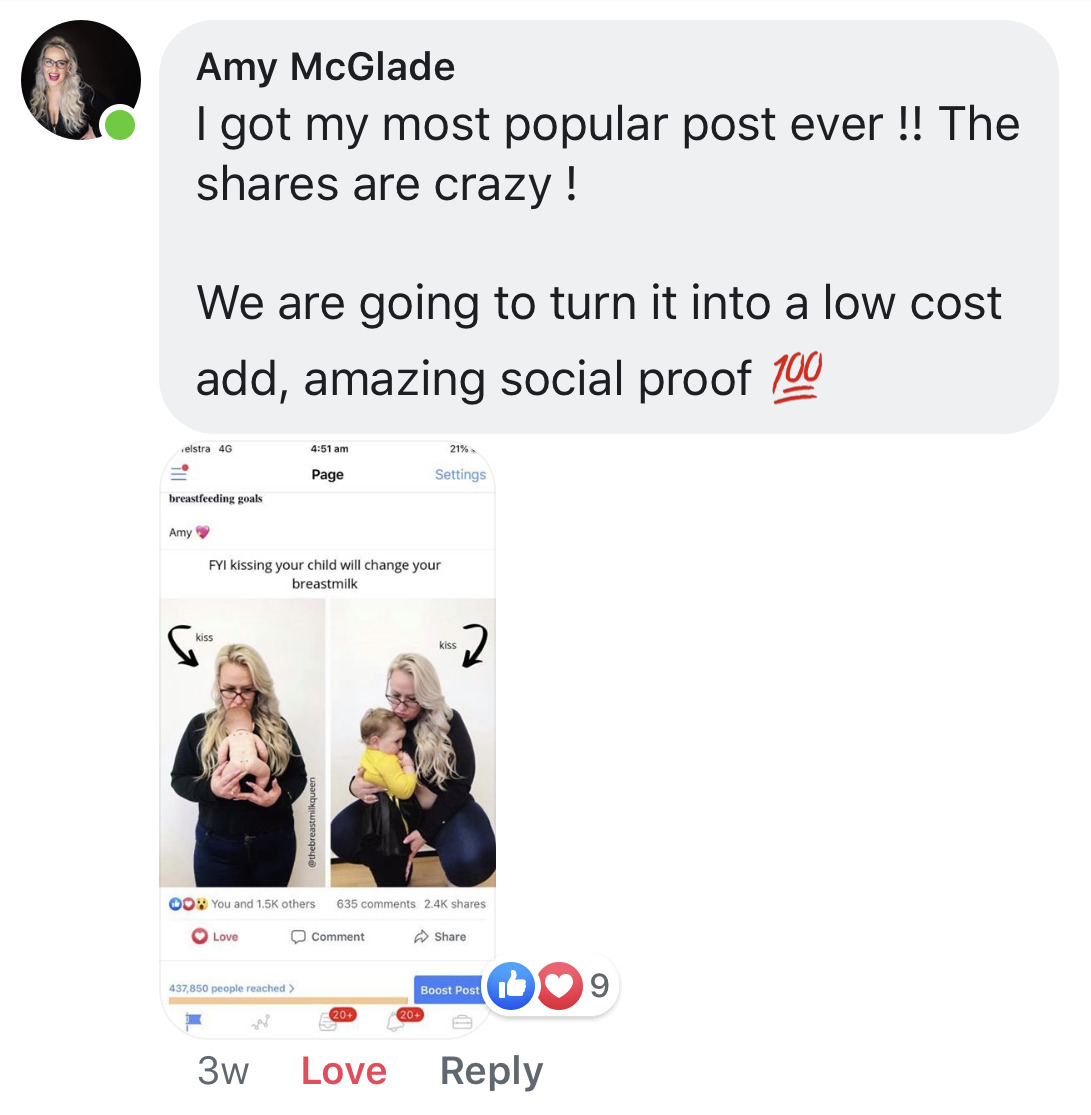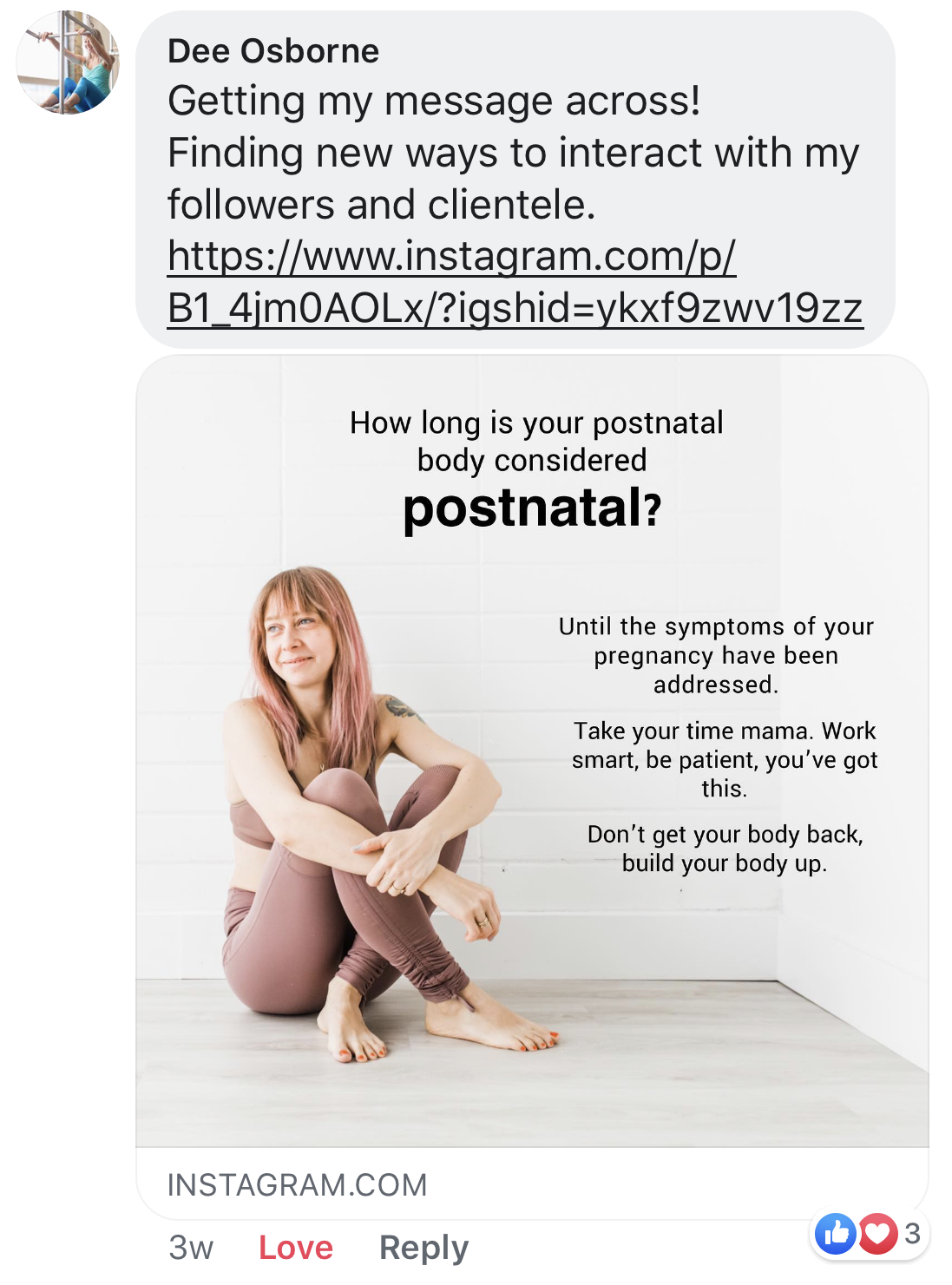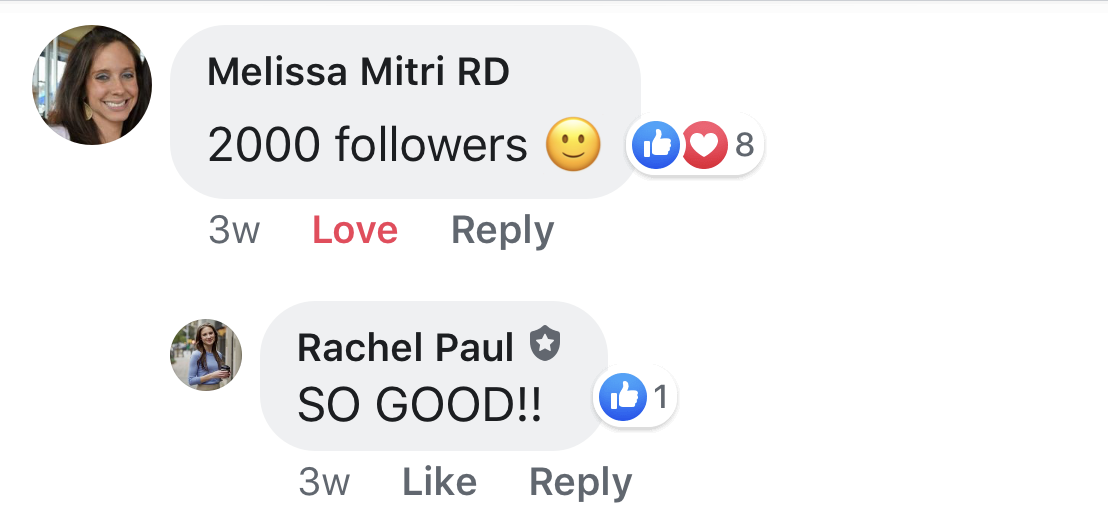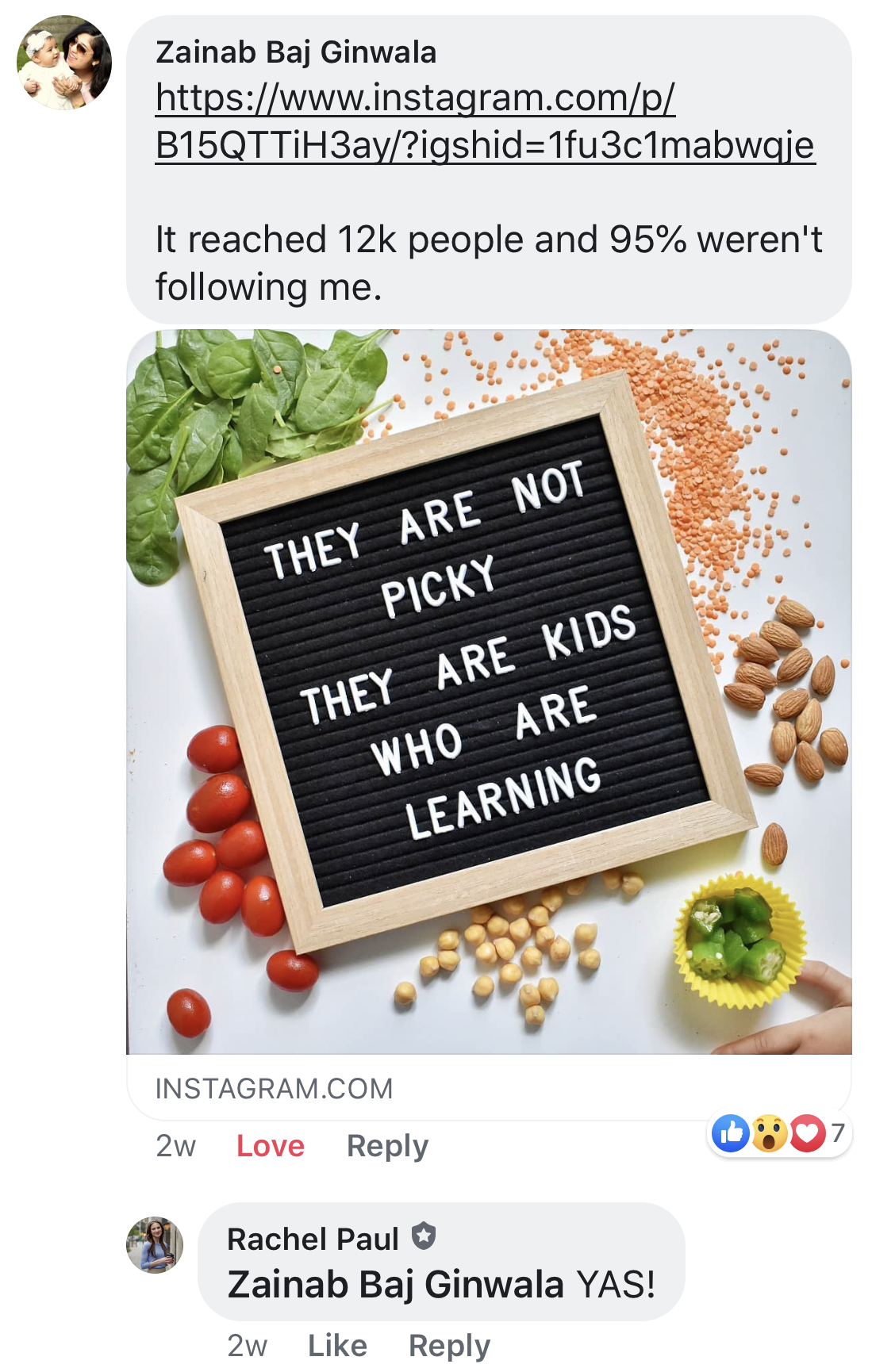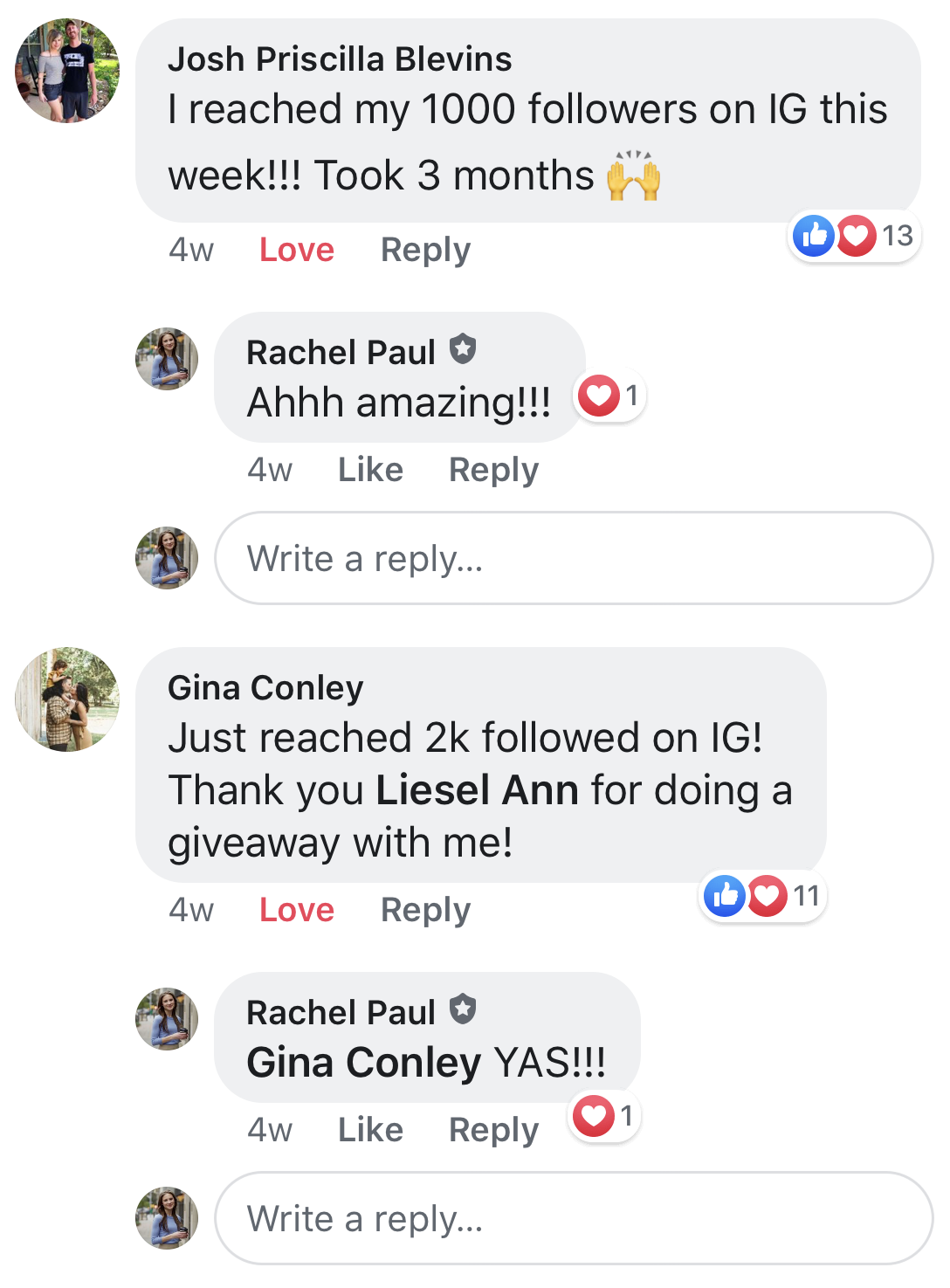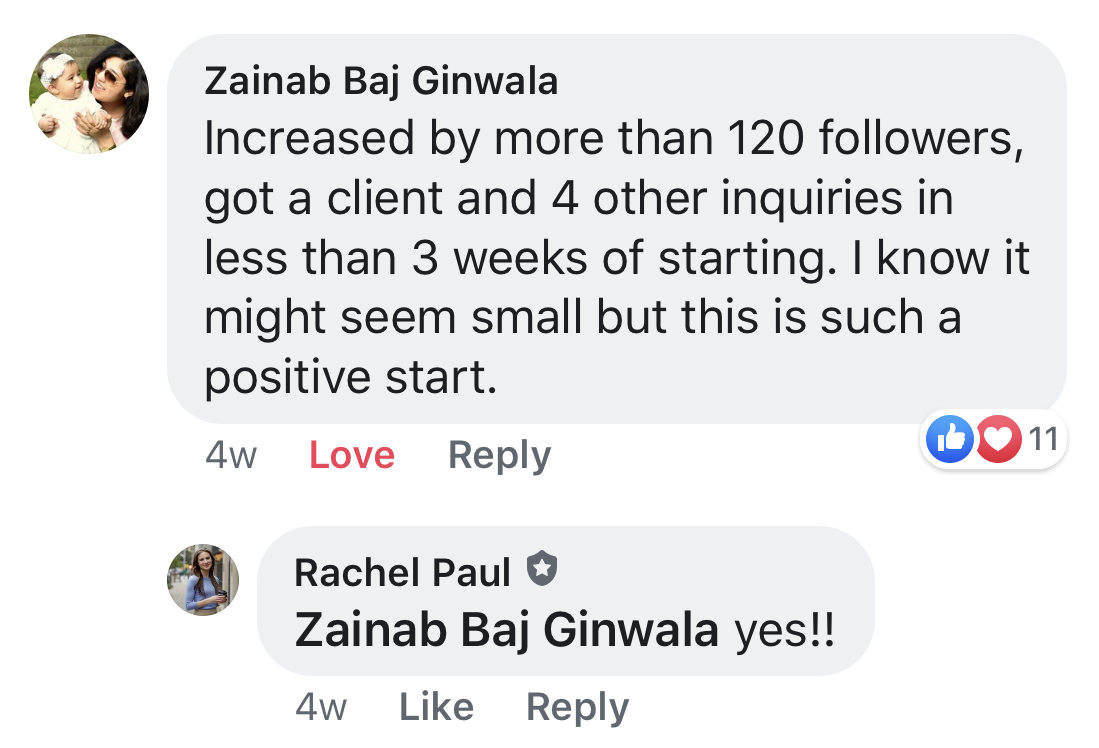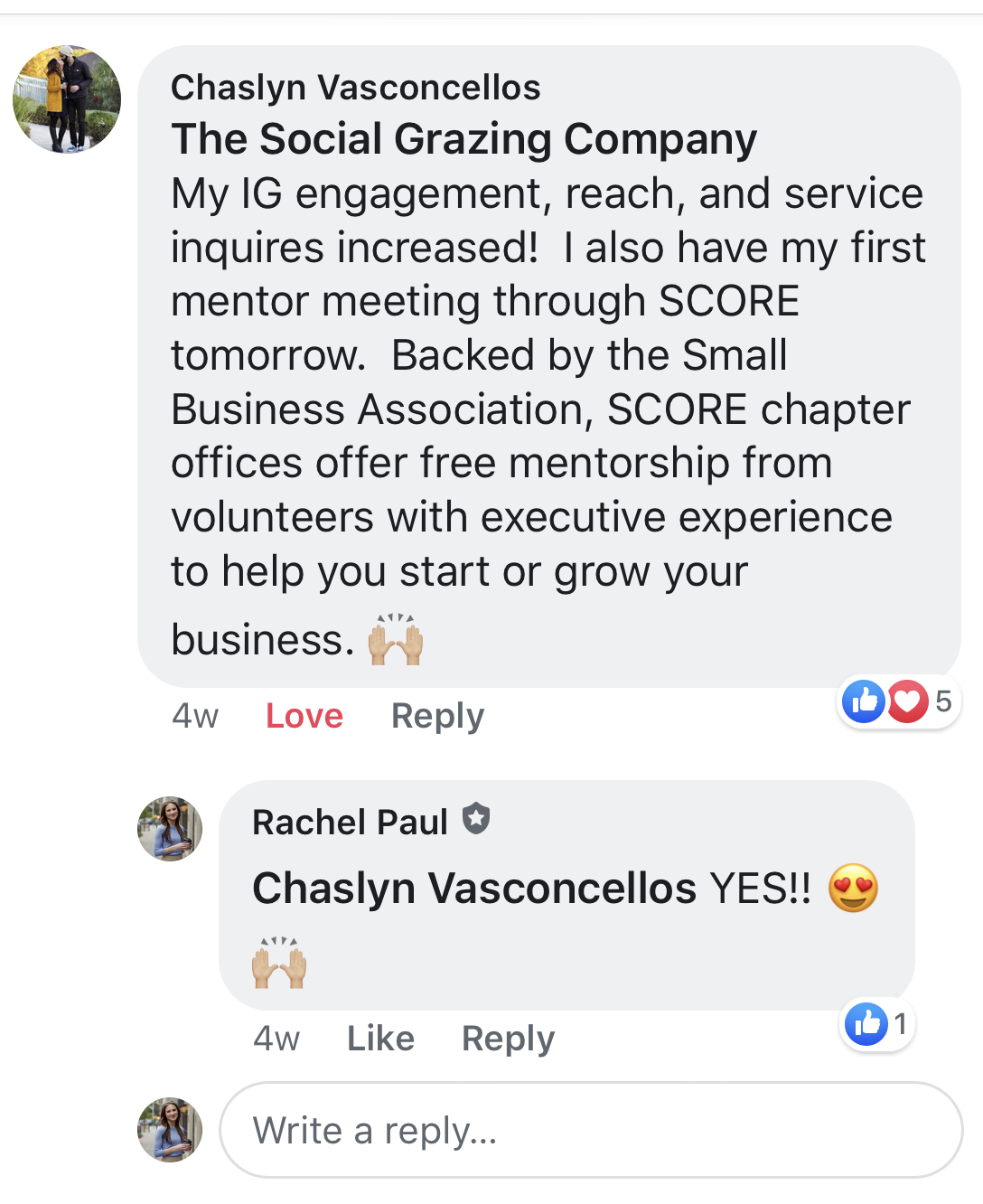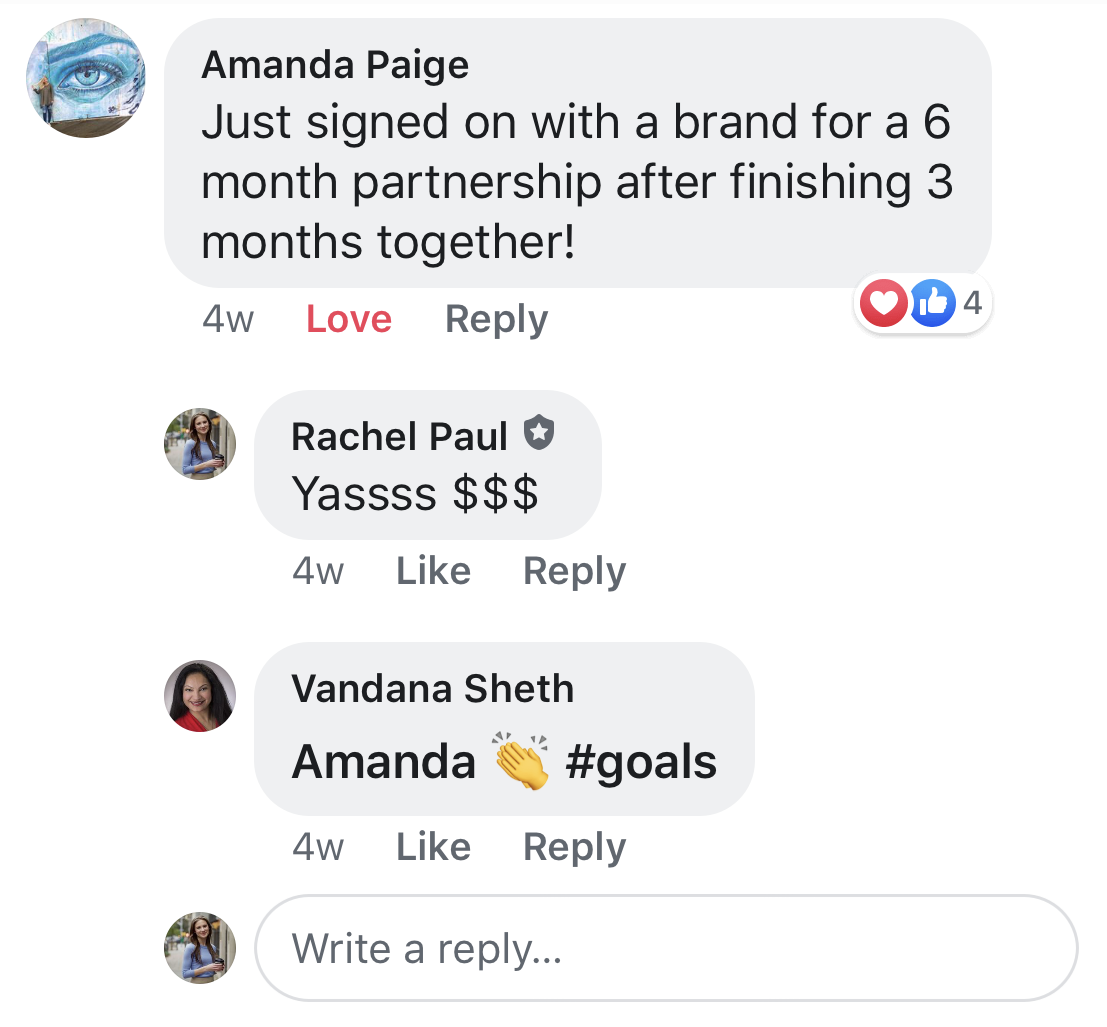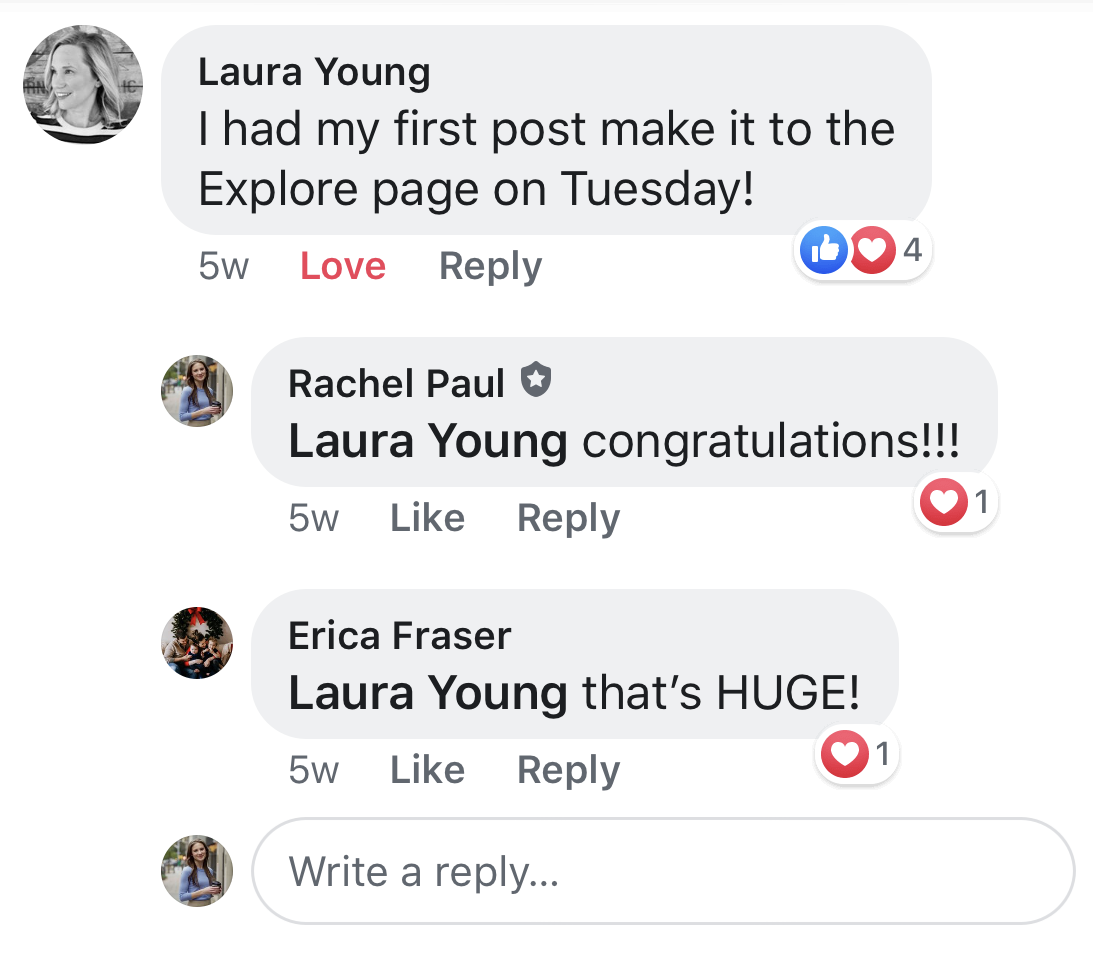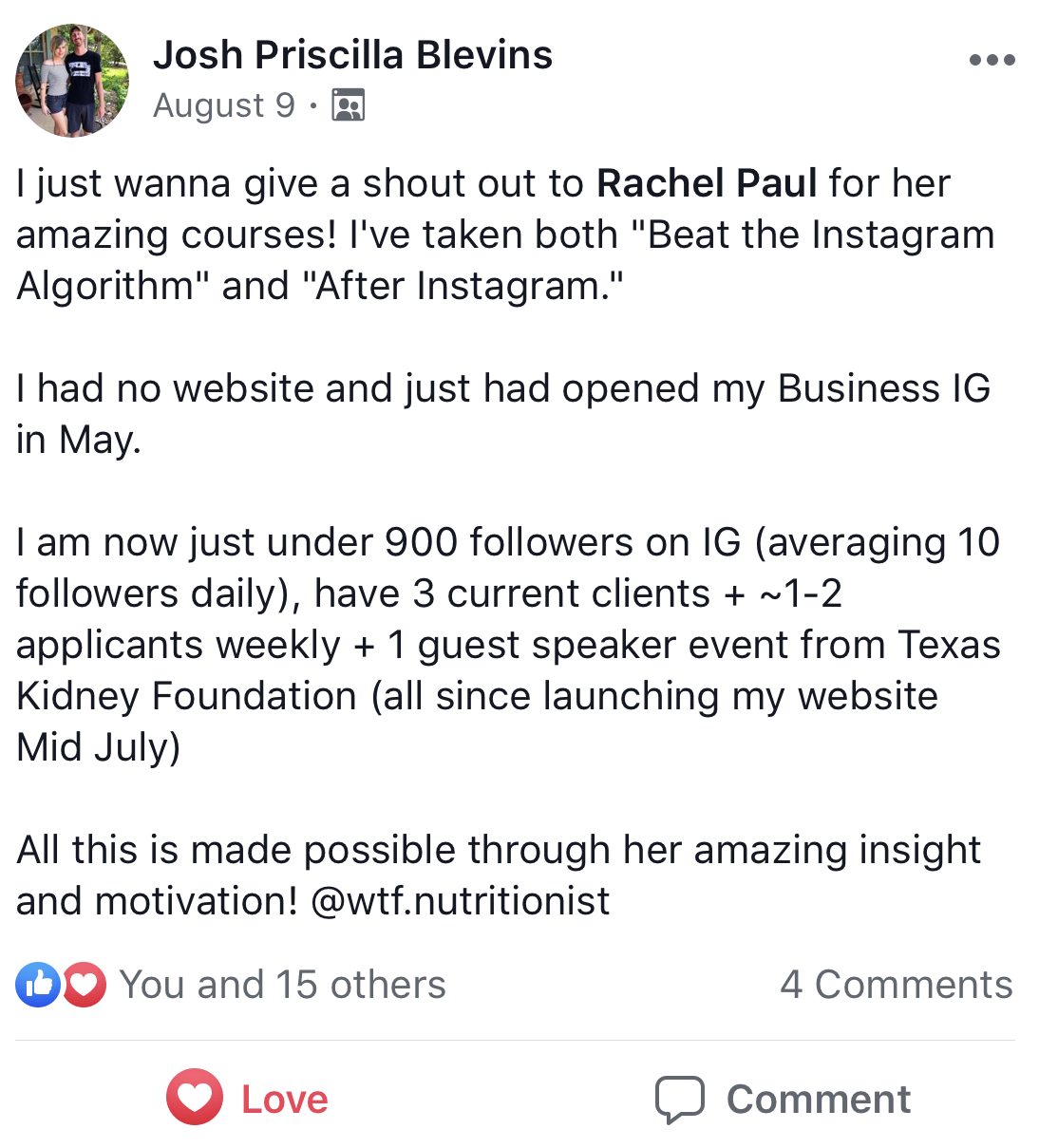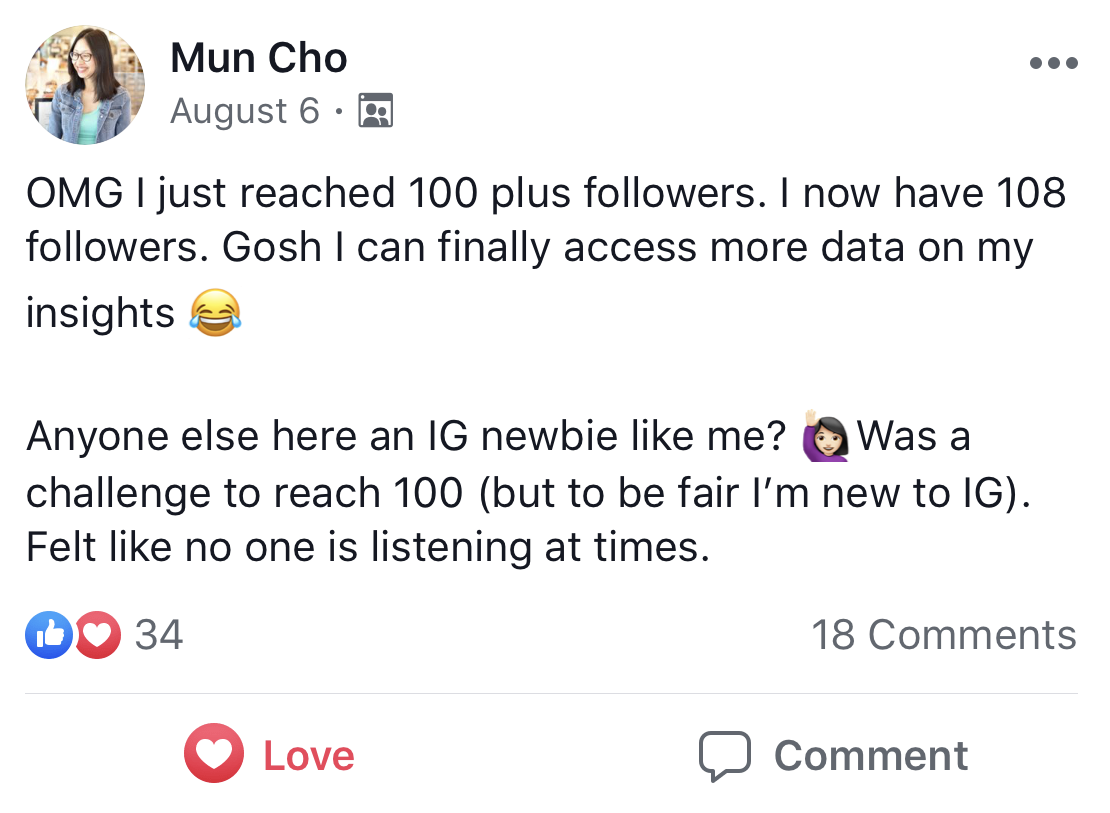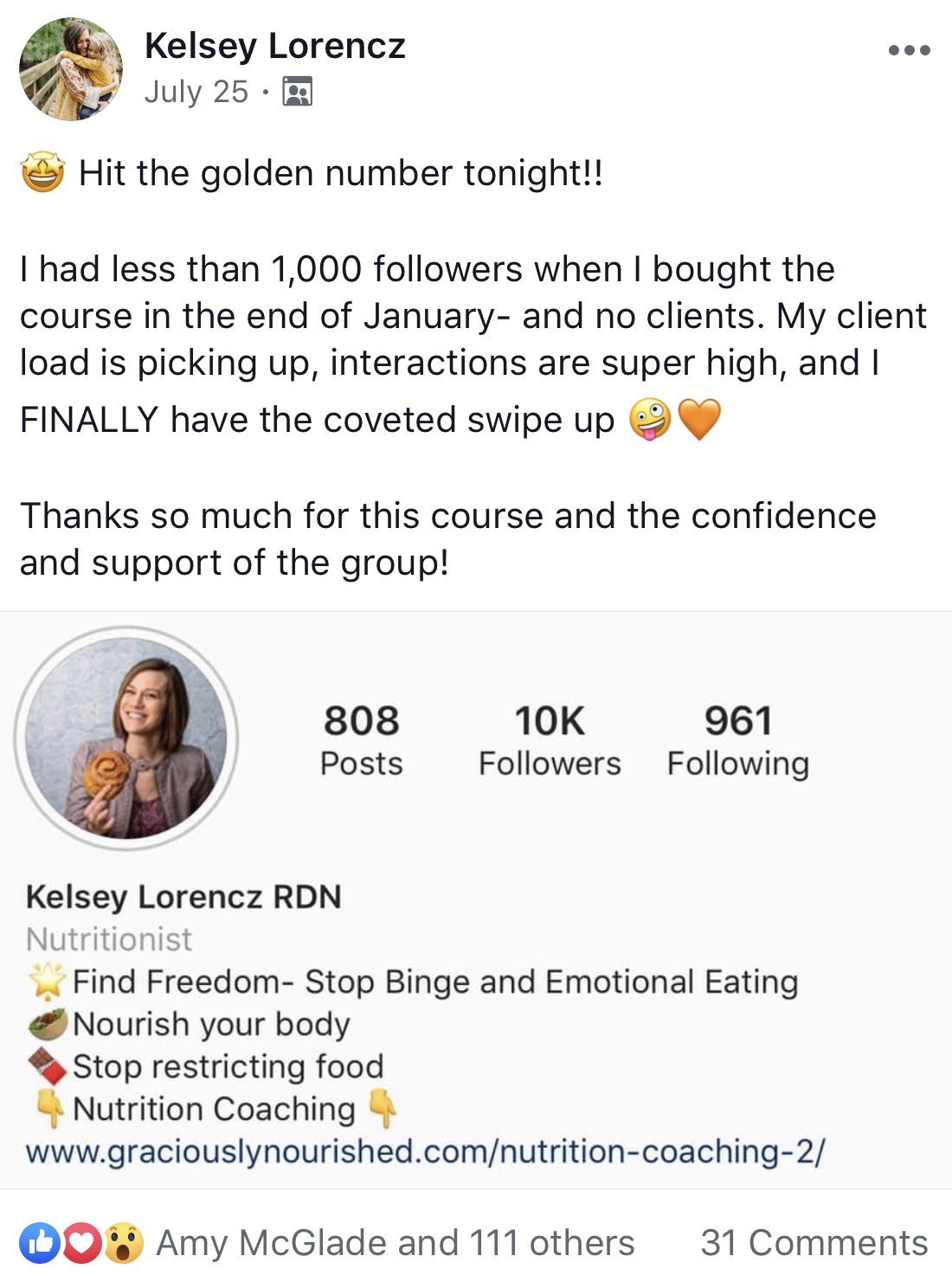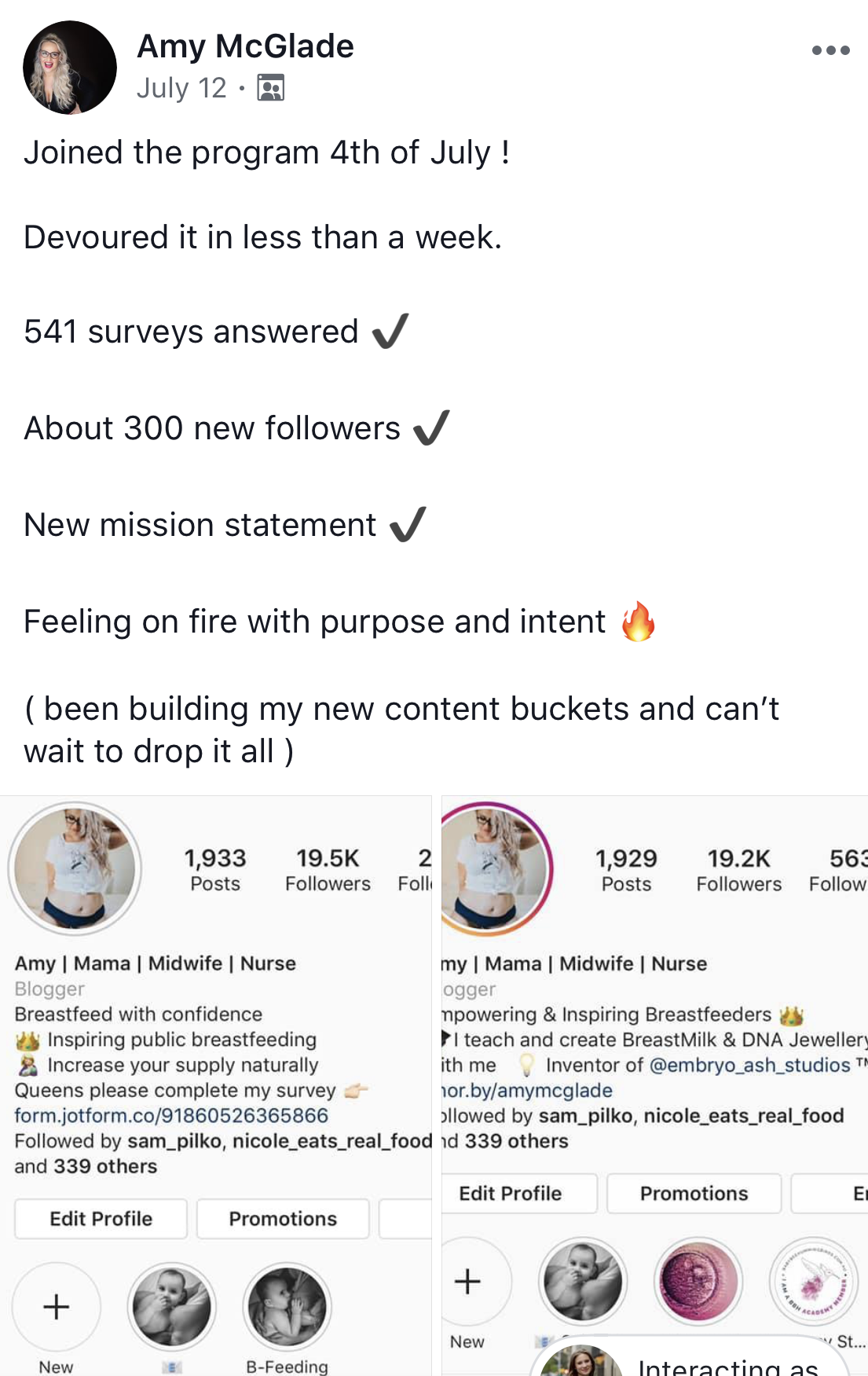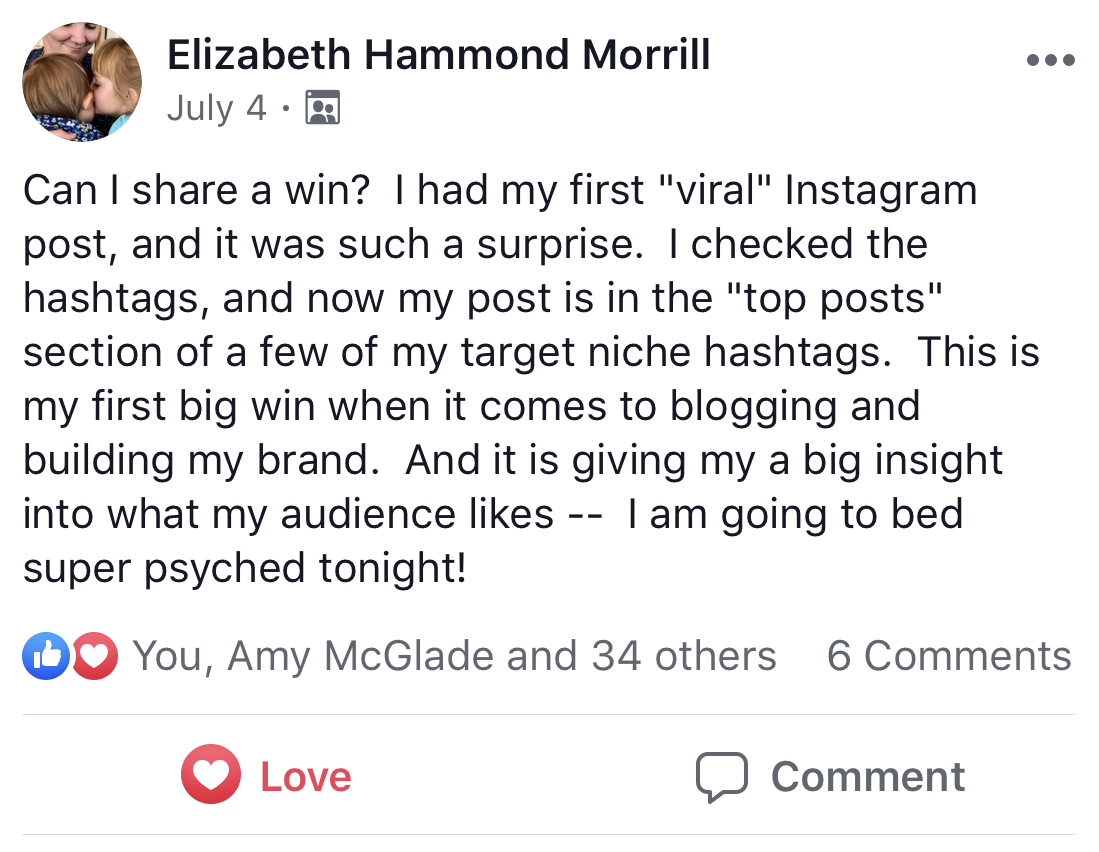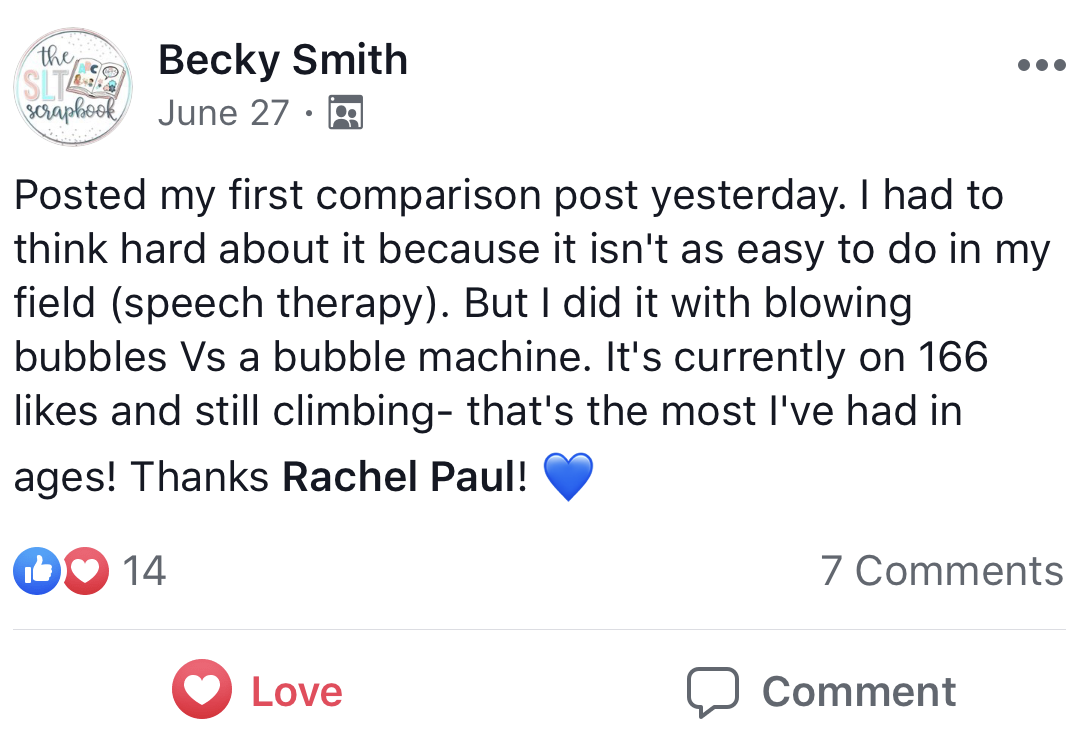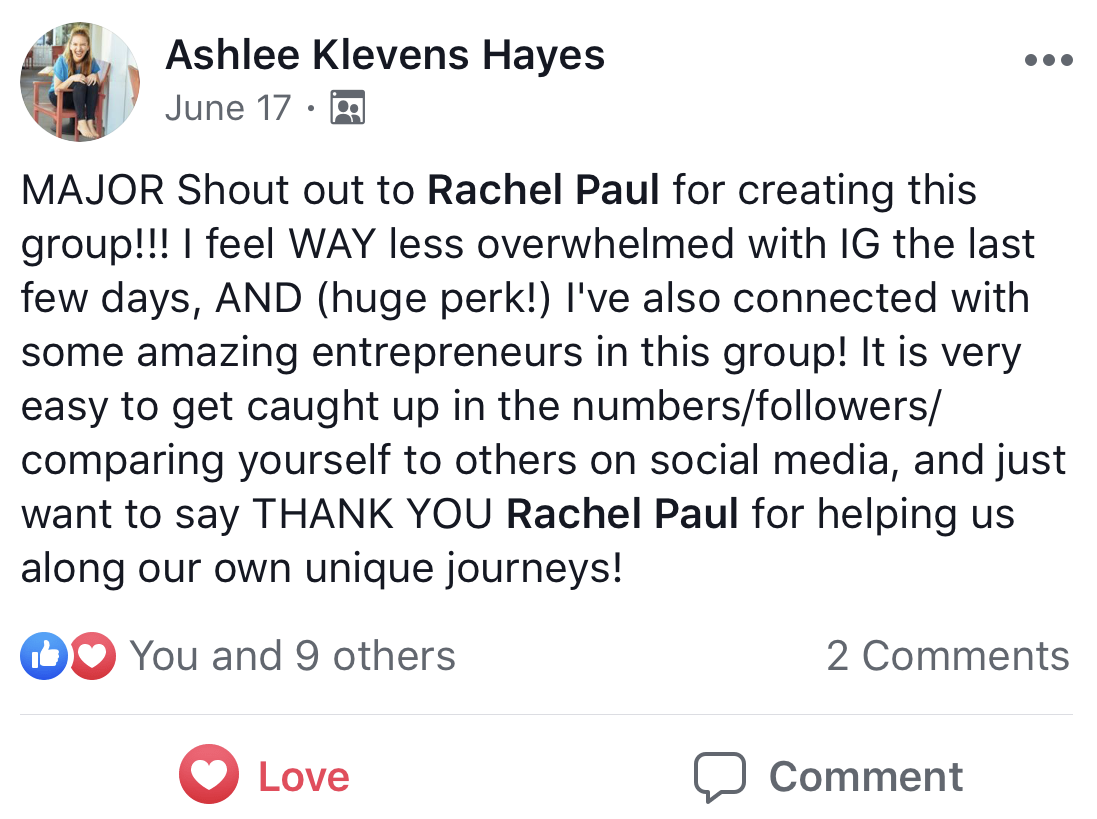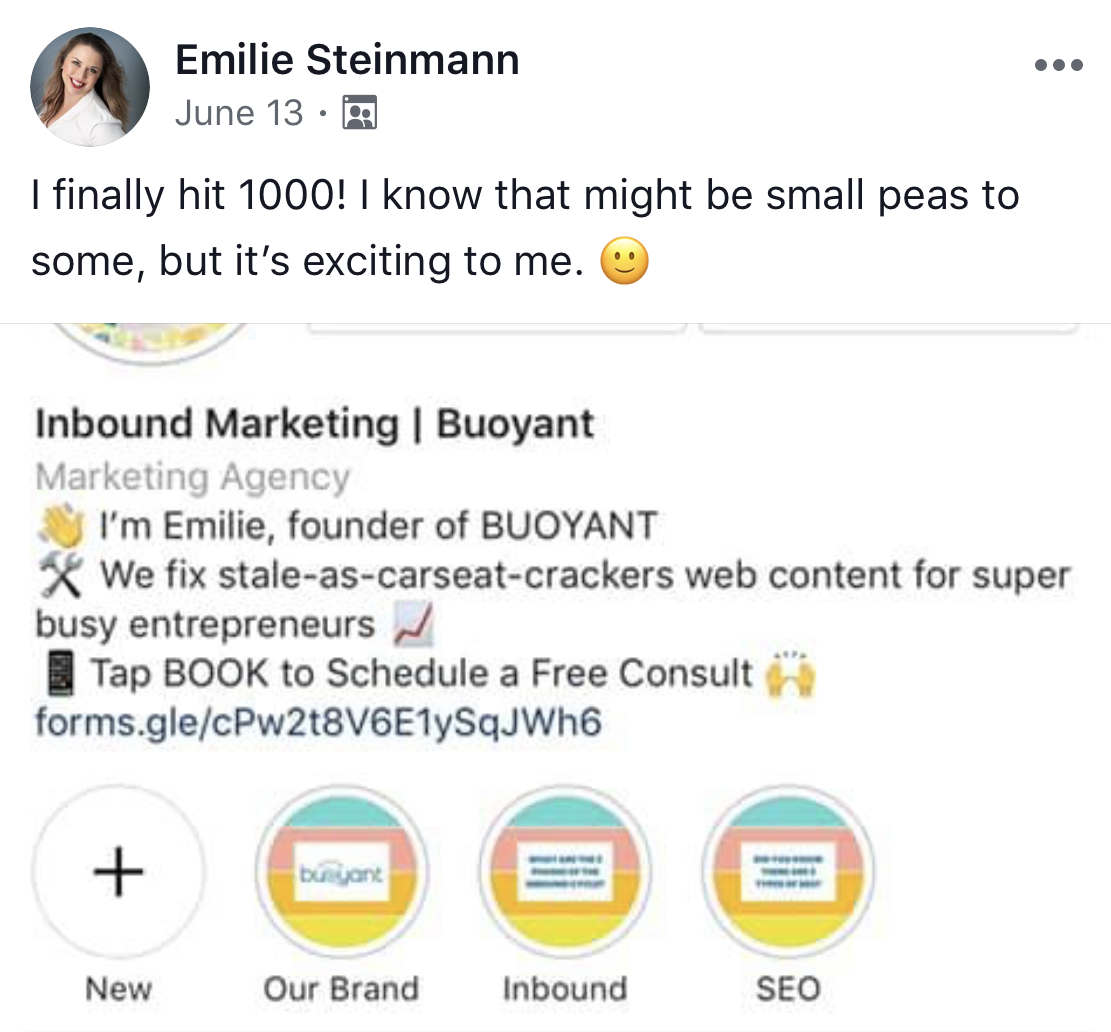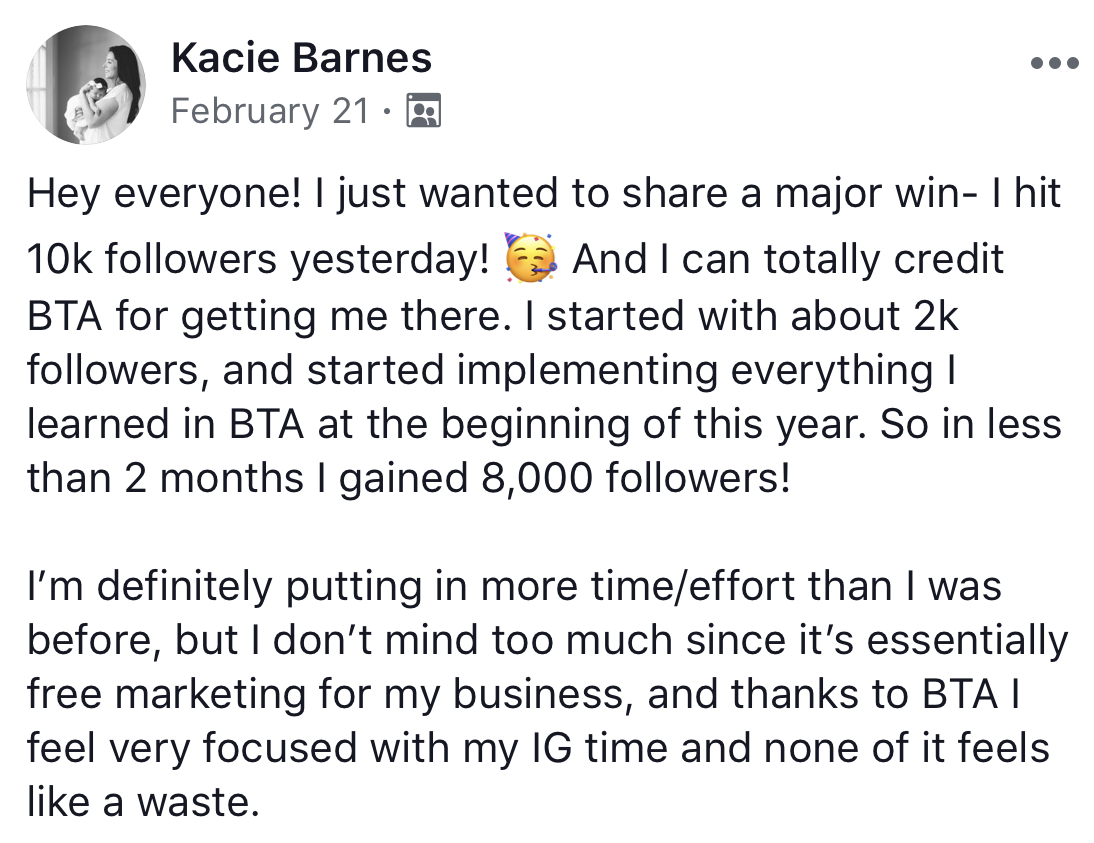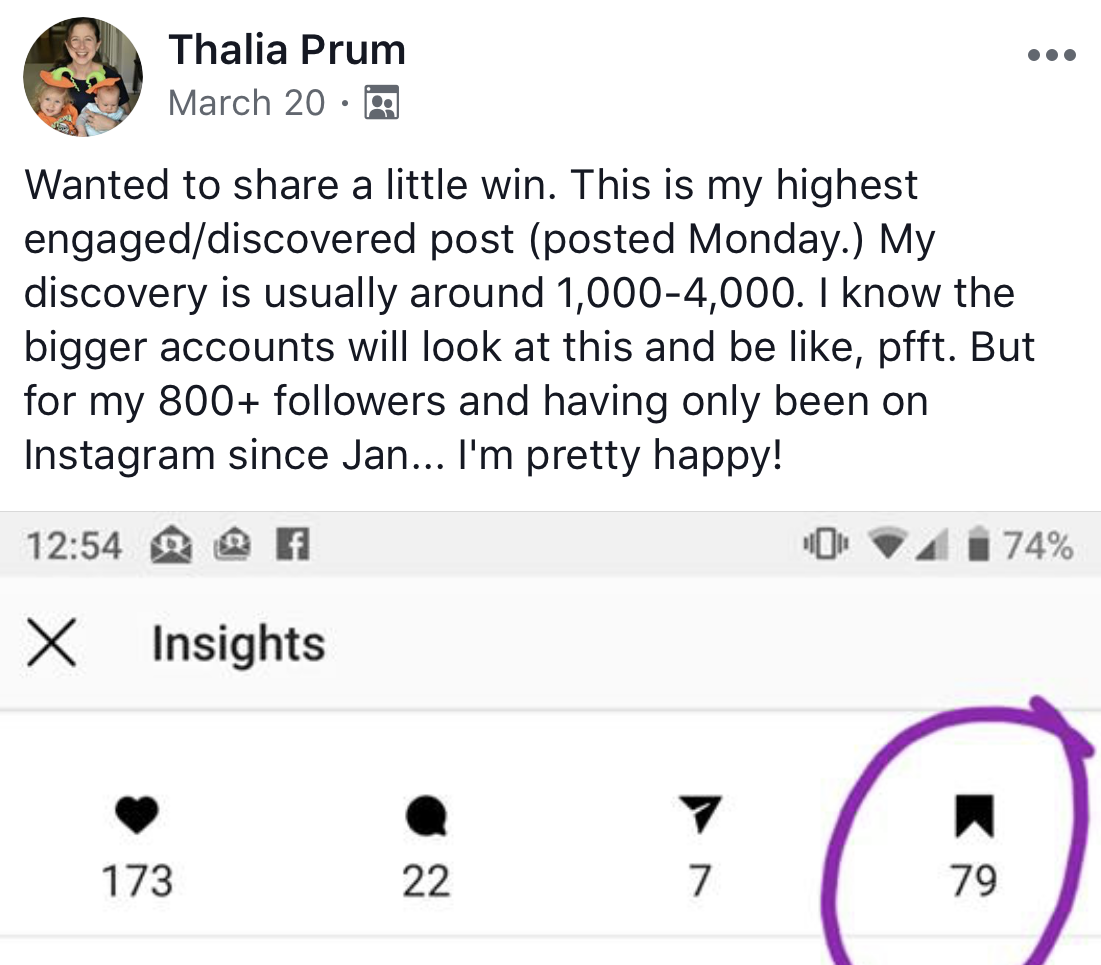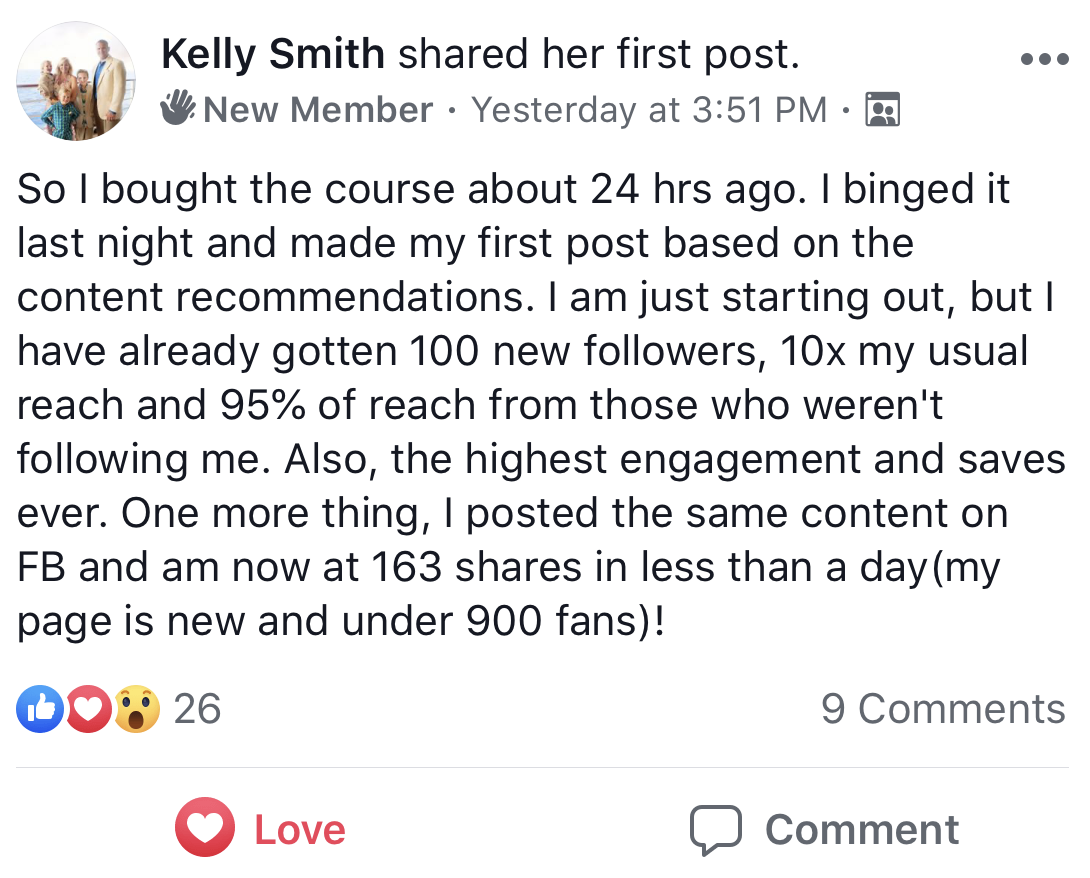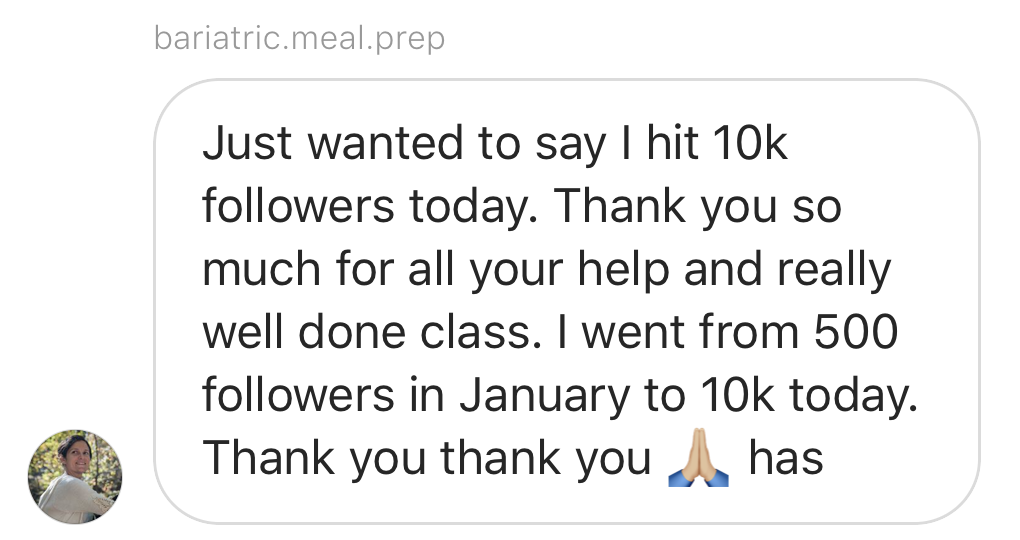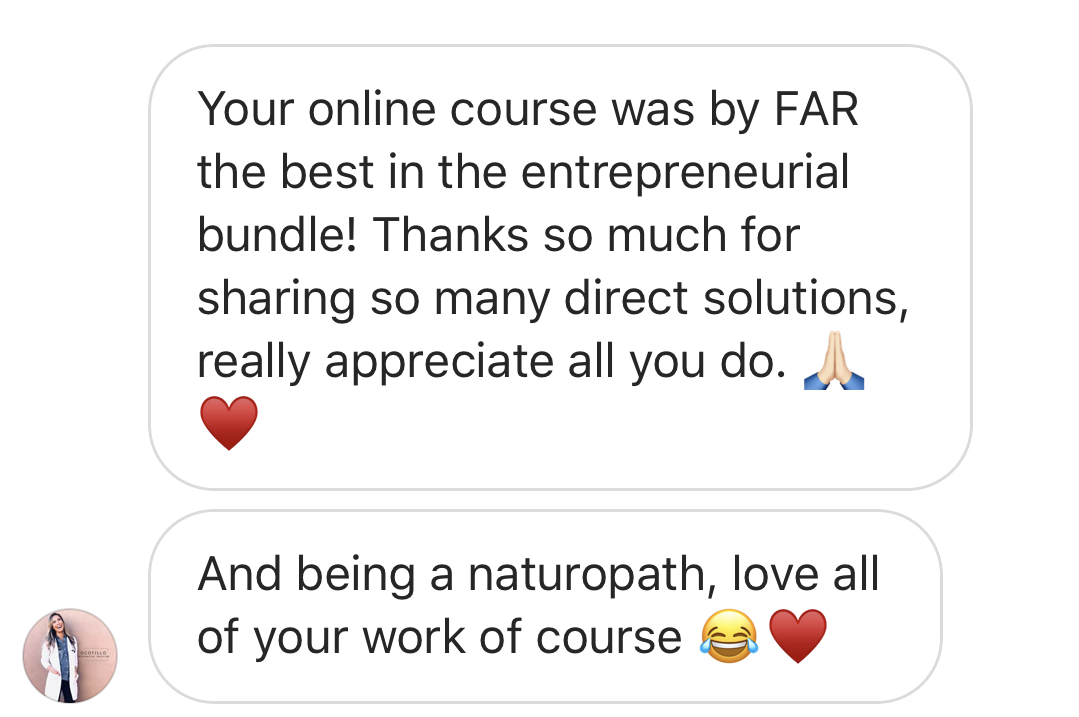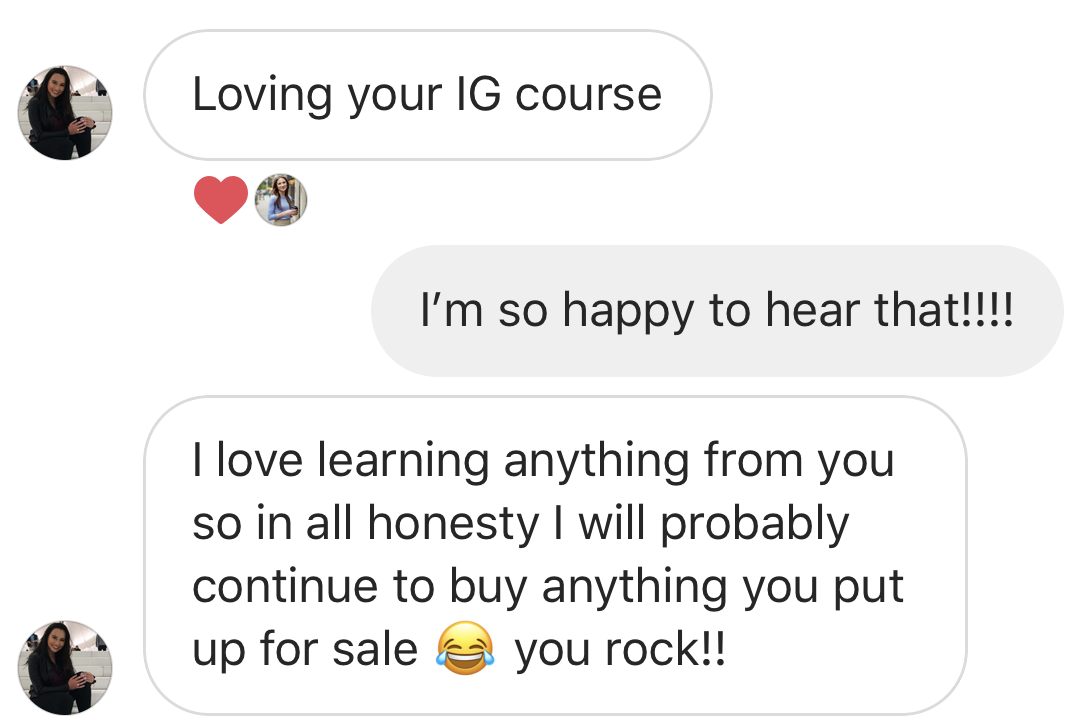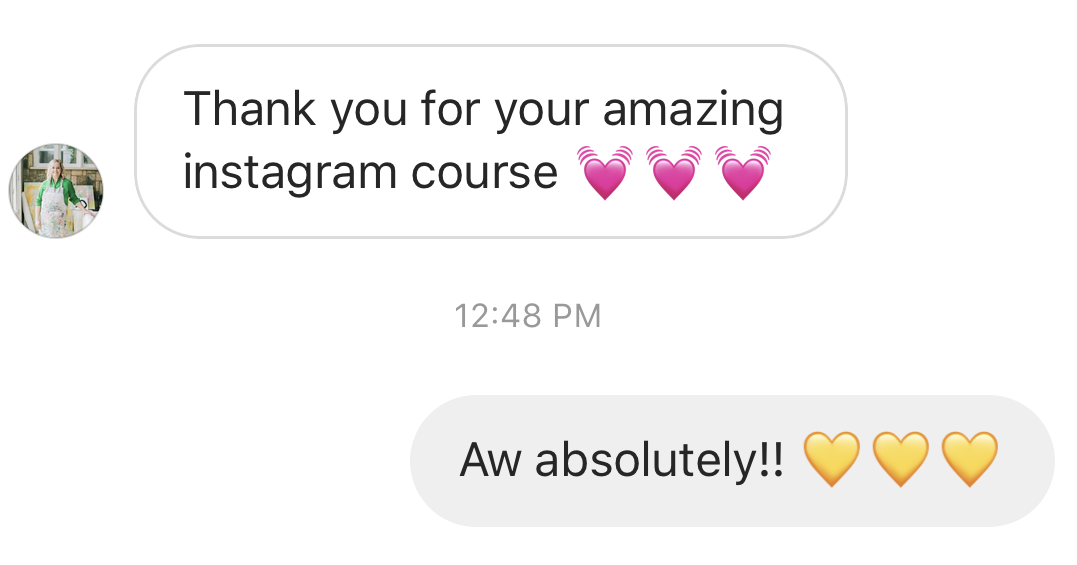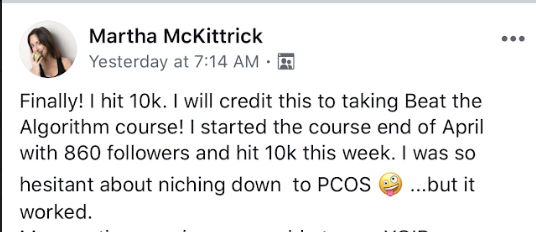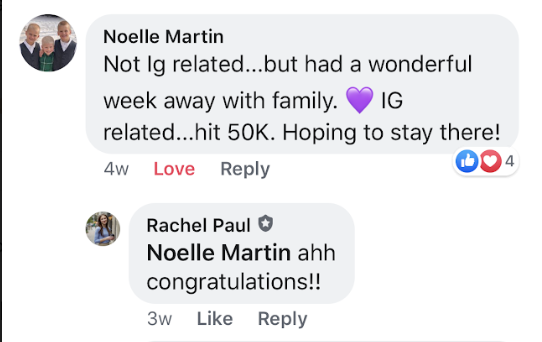 EARNINGS DISCLAIMER
Any earnings or income statements or examples shown through our website are only estimates of what might be possible now or in the future. There can be no assurance as to any particular financial outcome based on the use of our website. You agree that I am not responsible for your earnings, the success or failure of your personal or business decisions, the increase or decrease of your finances or income level, or any other result of any kind that you may have as a result of information presented to you through our website. You are solely responsible for your results.
TESTIMONIALS
I present testimonials and insights about other people's experiences with my website for purposes of illustration only. The testimonials, examples, and photos used are of actual clients. They are not intended to represent or guarantee that current or future clients will achieve the same or similar results; rather, these testimonials represent what is possible for illustrative purposes only.
This website is in no way sponsored, administered, or associated with Facebook, Inc. or Instagram, Inc.